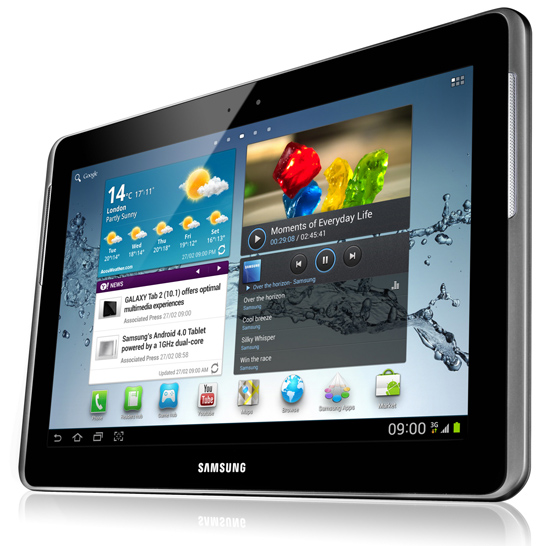 Launch of the Samsung Galaxy Tab 2 10.1 is now officially set to take place in the US starting May 13 at merchants such as Amazon and Best Buy. The Galaxy Tab 2 pricing will start at $399 for a 16GB and WiFi model, with no real jump in specs over the original Galaxy Tab. It has the same slim design and a dual-core chip running Ice Cream Sandwich. Sammy also took this time to announce the US launch of their new Galaxy Player 4.2 which will sell for $200. 
Samsung Galaxy Tab 2™ 10.1 and 4.2 Galaxy Player™ to be available for purchase nationwide this weekend 

Samsung Electronics America Inc., today announces that its newest additions to the Galaxy Family, Galaxy Tab 2™ 10.1 and Galaxy Player™ 4.2, will be available for purchase nationwide beginning Sunday, May 13.

The Galaxy Tab 2 10.1 will be available for $399.99 SRP, and the Player 4.2 will sell for $199.99 SRP. These complement the already available Galaxy Tab 2 7.0 and Galaxy Player 3.6.

Retailers carrying the devices include Amazon, Best Buy, hhgregg, Tiger Direct, WalMart, Office Depot and others. (Not all models available from all retailers).

For additional retail outlet availability, visit http://www.samsung.com

Key highlights include

Samsung Galaxy Tab 2 10.1

Control, Watch and Share Your TV Content
· The perfect TV companion, use your Tab as a universal remote, multitask on the web while watching and wirelessly stream the live feed from your TV to your Tab.

Your Movies, Videos and Games Will Come Alive
· Everything's more exciting on a bigger screen. Browse the web, explore over 450,000 apps from Google Play and Samsung Apps, and access thousands of TV shows and movies via WiFi.

Built to Power Your Entertainment
· A big 10.1″ entertainment machine The Galaxy Tab 2 10.1 is powered by Android™ 4.0, Ice Cream Sandwich, a dual-core processor with a microSD™ card slot and more.

Samsung Galaxy Player 4.2

Listen to your favorite music on the go
· Get instant access to your music with WiFi; as simple as drag and play.

Personalize your player. So many options to make it your own
· Discover a large collection of apps to customize your player.

One single device for all your entertainment needs
· The Galaxy Player 4.2 includes premium EA games. Experience seamless multimedia playback and much more!