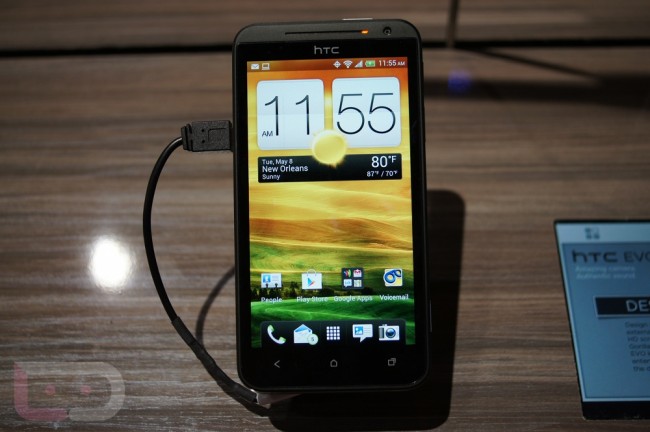 While stumbling around HTC's booth here at CTIA, I came across the new EVO 4G LTE which I had yet to get my hands on. So I took it for a spin and thought I'd share.
When this phone was unveiled, I was pretty critical of the design choices that were made, particularly to the back side. The matte finish on the bottom looks amazing, but that glossy black top is something else altogether. After handling the phone for all of 5 minutes, the glossy part was completely covered in fingerprints (you'll see in the video). So with this phone, you will constantly be wiping the back and screen so that it doesn't look like a massive black smudgefest. Overall though, the phone is very pleasing to look at from the front, it's just that backside makes me cringe a bit. 
For those not familiar, the EVO 4G LTE is headed to Sprint as somewhat of a copy of the One X. It has a dual-core Snapdragon S4 processor inside, 4.7″ gorgeous Super LCD2 display, 1GB of RAM, 8MP camera, 2000mAh battery, and more. It's easily Sprint's best phone even with the Galaxy Nexus just launching.
Gallery:
Quick look: