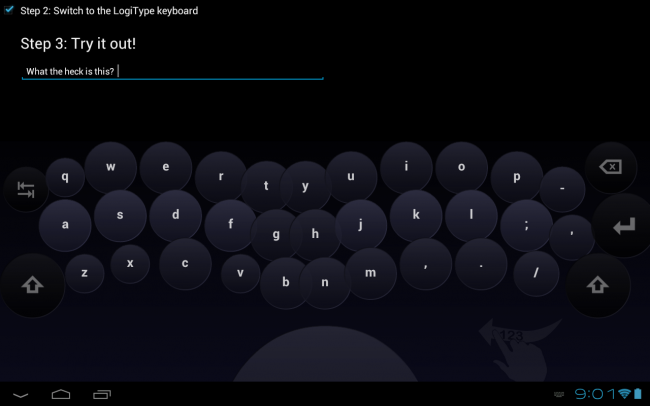 We have had the pleasure of experiencing some pretty funky keyboards. Whether they use interesting features to help you type better or just look down right ridiculous, you can always bet that there will be that one diamond in the rough. LogiType may be that gem. At first glance, I was a little worried. With the bubble keys and how it seems that they're strewn across the display with no sense of order, it is not a minimalist's best friend. But, this thing actually works and works quite well. 
For a speed pecker like myself, I actually find myself missing fewer strokes and not hitting wrong keys. But if I did miss a key, the built-in auto-correct was good enough to fix all of that. It also has a pretty nifty swipe feature for you to access special characters and a number pad, which gives it the closest feel of a full keyboard I have experienced on a 10.1″ screen.
The keyboard is free on the Play Store, so it's worth a shot (even if you think it looks dumb) and let me know what you think.
Play Link