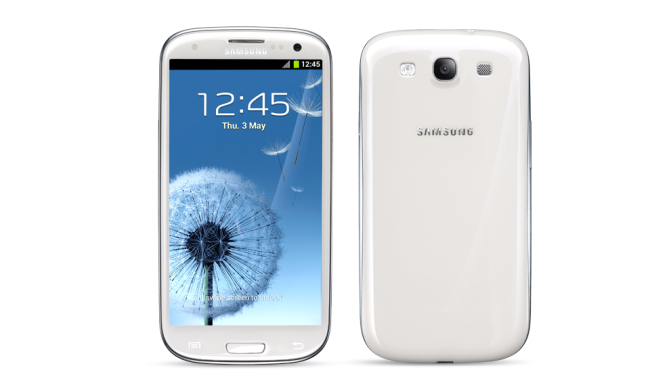 We were originally going to post our reactions yesterday afternoon, but decided to sit back and absorb all things Galaxy SIII for a day before doing so. Now that we are a day in, let's go ahead and talk about what we saw, what we liked, and what we didn't like. Did it live up to the hype? What's with the hardware navigation keys? No "Plus" on the display? 
Design:  For the most part, the design is beautiful. The white version is eh, OK, but the blue they have chosen looks great and is a welcomed change from the standard black or grey models we have seen in numbers over the last couple of years. The screen comes close to being edge-to-edge, the curves in the body will probably make it comfortable to hold, and thankfully, they included a notification light. The shiny finish though, not so hot. We tend to favor more subtle matte finishes around these parts – you know, the ones that aren't fingerprint magnets.
Display size:  4.8″ is probably too big, no matter how they try to sell it. There is definitely a market for gigantic smartphones, but personally, I'd prefer no bigger than the Galaxy Nexus. The 4.7″ display on the One X along with hardware nav keys is definitely pushing the limit for my taste, so with Samsung going up another notch, I'm a little hesitant to praise them on this one.
Display tech:  No "Plus" in that HD Super AMOLED? Last year, Samsung blew our minds with the Super AMOLED Plus screen on the Galaxy SII, along with its new processor and other specs. Where is that "wow" factor, this year? This is the same screen that's on the Galaxy Nexus. And while we still like that screen, it's not even in the same ballpark as the Super LCD2 used by HTC in the One X.
Hardware navigation keys:  You didn't, did you Samsung? Why, oh why did you have to throw on a physical home button and then hardware menu and back navigation keys? First off, the Android team killed the menu button in Ice Cream Sandwich, yet you slap on one that can't be removed? Plus, one of the big ICS features is a task switcher which now is only accessed by long pressing that nasty home button? Bleh. The good news is that in the past, all U.S. versions have not had the physical home button in the middle. Could Samsung change the design and ditch the hardware nav keys for on-screen versions when the SGS3 arrives on our shores? Wouldn't that be a pleasant surprise.
Processor:  The quad-core Exynos chipset in the Galaxy SIII is by all means a beast. I wish I could say, "I can't wait to take it for a test drive!" but we all know that it won't come anywhere near our favorite U.S. networks. Well, it could come to T-Mobile since they don't have LTE, but the rest of 'em, probably the Snapdragon S4.
TouchWiz:  Oh TouchWiz, you remain our least favorite Android skin of all time. Your cartoon colors, 2009-esque icon set, and rippling water effects are not for us. It looks like Samsung has added some new features to TouchWiz that could be worth bragging about (gestures from lock screen, better sharing, direct call, etc.), but we would have rather their focus be on creating a skin that at least looked appealing. Gone is the puzzle unlock screen, but in is a watery swiping mess? If there was ever a time we wished that those rumors of phones having the option to toggle on or off an OEM skin, this would be the one. Give me Sense 4.0 or Blur over this any day.
S Voice:  Yes, Samsung created a Siri clone. I'm not really sure what else to say about it. Since Apple introduced it in the Fall, we shook our heads at it, hoping that the world would not walk around talking to their phones, yet here we are with the biggest dog on the planet joining the party to sell it to everyone.
Camera:  The 8MP shooter in the Galaxy SII was/is still one of the best mobile phone cameras around. From what we saw yesterday, Samsung managed to make this one even better. They added burst shooting modes, better facial recognition, zero shutter lag photos, and more. Cameras can make or break a phone, so we have to give Sammie props here.
Other:  Removable battery, yay! Expandable storage, yay x2! 8.6mm thick, +1! Not in the U.S. until maybe, June? Boo! 50GB of Dropbox storage and Flipboard, awesome! NFC, woohoo!
Overall:  For the most part, the Galaxy SIII looks like a hell of a device. We are frustrated with Samsung's choice to include hardware navigation keys and to continue to push a tired TouchWiz UI, but it's still got enough goods to get you to consider it. Is it better than the One X by HTC? To me, it doesn't come off that way. I'll have to wait until I get my hands on it or I see what the U.S. versions look like, but HTC's offering is close to being perfect. As you can see from my list above, the Galaxy SIII seems far from that.
The rest of the DL team reacts (Ron's here):
Tim:
My thoughts are still unclear. It has some very intriguing features, both inside and out. The idea of it listening and watching me is really fantastic (sure to make my iPhone-adorning girlfriend jealous), but I am still split on its actual design. I was thinking Samsung would do away with the hardware buttons and give us a massive/beautiful display, but it sort of just looks like a supercharged SGSII. I was hoping for some sort of new design altogether. It looks gorgeous, but I will have to feel it to know what to actually think.

For example, I thought the HTC One X was just another phone, until I felt it. If the SGSIII gives off a plastic feel, then I will shy away. I guess I will have to wait until we get our hands-on to see how I truly feel.
Eric:
Overall the thing I was most impressed with Samsung's preparation for the whole event. To truly compete with Apple they needed to build up hype like Cupertino does. Yesterday, with their strange videos, live music and likable speakers they took a step in that direction, so I applaud them there.

For the actual phone, I was far from surprised or 'blown away' from the announcement. I am excited for the internals of the phone; the quad-core headlining that list. But even that might not make it to the US, we'll have to wait and see. I was a bit disappointed they didn't go with the HD Super AMOLED Plus but I'm sure the screen will look great anyway. TouchWiz is what it is, but Samsung looks to be throwing in some goodies like S Voice and all those sharing options to keep us from throwing stock ICS on there.

I will definitely be looking into this phone. The only real concern is the build of it, from what it looks like. With HTC blowing people away recently with their One series this looked to be the same old Samsung plastic. The jury is still out on that but this is the logical expansion of the Galaxy series. Whether or not it can knock all other mobile phones down a peg remains to be seen.
We have seen plenty of your thoughts throughout our SGS3 coverage, but do you feel any different about the device today? Want it more or less or not at all? Should we expect better things when the phone arrives here?