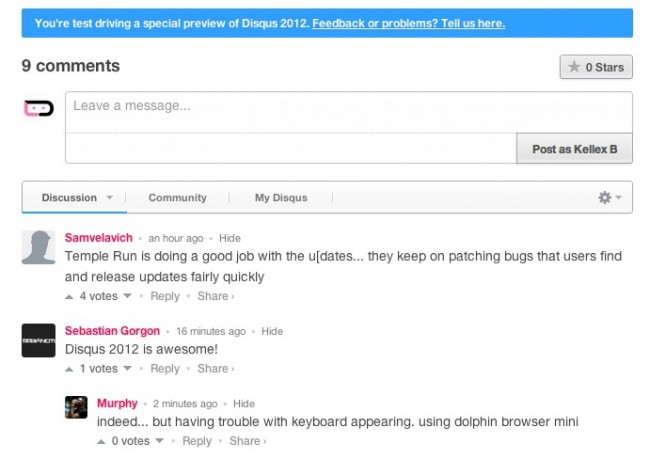 We didn't think it was possible for another tech product to trump the Galaxy SIII on its launch day, but one may have done it. Disqus released 2012 to Droid Life and other "select" communities, today! OK, that's not actually cooler than the SGS3, but it's still something we have been waiting impatiently for (behind the scenes). So yeah, Disqus informed us this morning that we were invited to turn on version 2012 to our entire community and we have done just that. Take it for a spin, tell us (in the comments) what you like or dislike about it, and then report any bugs or errors you see to Disqus so that they can fix them.
What's new?
Up and down voting:  That's right, you can now vote things up and down! You used to only have the ability to "like" something or flag it as inappropriate, so this is a major change. Enough down votes on that freshly posted troll comment and it gets hidden from view. Let's not abuse this though, and try to use it only when seriously needed.
Community tab:  The Community tab is there to help you discover other hot topics on Droid Life. If you tap it, you will see the most popular posts with the most comments from within the last week or so. If you want to make sure that you are up-to-speed on all things DL, this is a great place to start. You also get to see a leaderboard of sorts for our top commenters. I dare you to try and oust me at the top.
My Disqus tab:  The My Disqus tab is new as well, bringing you a list of notifications from your current conversations. If someone has replied to a comment of yours, it should show up in a list here so that you can quickly jump back to it and share your haterade.
Star button (top right):  This has replaced the "Like post" button, but we want to make sure you are using it still. If a post is awesome or you enjoyed it, make sure to hit the Star button.
Other stuff:
Flagging comments:  No better time than now to remind everyone of this, but don't forget that if a comment is completely uncalled for or obscene or spam or from a pure troll, flag it as inappropriate. That way, it pops up in our moderator panel and we can take extra measures if need be. For most things though, just use the down vote button until it is hidden.
Hide comments:  Or better yet, feel free to "hide" them if they are annoying you, but aren't necessarily "flag" worthy.
Mini-images:  We aren't sure what happened, but Disqus 2012 apparently does not take URLs to images and display them as a thumbnail for easy viewing. We hope they bring this back as it was one of the best features – especially for showing off home screens.
Live comments:  Disqus 2012 is also supposed to update in real-time, however, we aren't noticing that as being live yet. We'll see what we can find out from the Disqus team on this front.
Mobile version:  Not going to lie, the mobile version kind of sucks now. It used to be really good, so hopefully this is on their list of things to polish.
Let us know what you think, and be sure to report problems as you see them through that blue bar at the top. We already see a few issues that we hope are taken care of, but the more people that report them, the better.