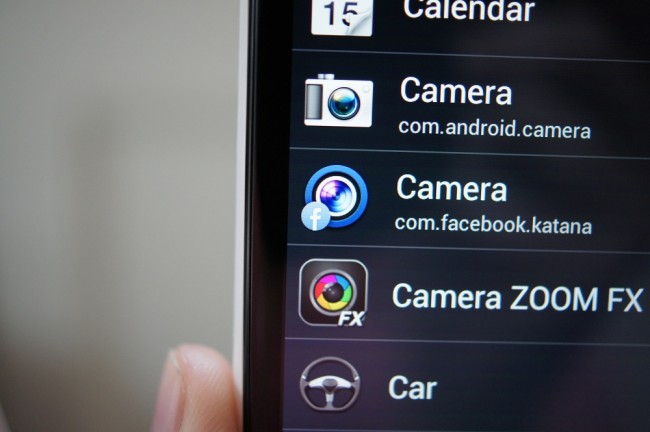 On Friday, an update was released by Facebook that didn't exactly thrill the masses. Upon installing, users noticed that they now had 3 icons from Facebook in their app drawers:  Camera, Messenger, and Facebook. The camera app was a shortcut so that you could instantly take photos and then load them into FB, while the messenger shortcut was exactly what you would expect it to be, a shortcut to their messenger service. As I mentioned earlier, many of you were not excited to now have Facebook in 3 different spots, especially right next to two of the most used native apps on your phone. You now had to be careful when you hit "Camera" or "Messenger/Messages" as these are the identical (or close enough) names to your stock camera and messenger apps for Android.
Well, a new update has hit this afternoon with new icons to help those apps stand out a bit more (no, they didn't remove them). As you can see from the picture above, the icons now include mini FB icons. That was  nice of them, wasn't it? (No comment.)
Unfortunately for most stock Android users, you will need to install a 3rd party launcher if you wish to hide these shortcuts. They are attached to the Facebook app, so uninstalling would simply uninstall the entire app. It's sort of a shady move by Facebook, especially for those that like to keep their app drawers tidy without a bunch of extra spam. It's almost like bloatware that isn't from an OEM, something I didn't think was possible.