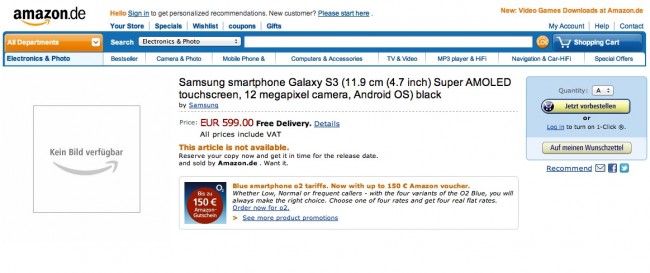 If you follow us on Twitter, then you probably saw this link go out early yesterday, but as always, we like to make sure everyone is up to speed. What we have is a listing on Amazon's German site "by Samsung" for the "Galaxy S3." Amazon lists it at 599 Euros, with a 4.7″ Super AMOLED display, 12MP camera, 16GB of internal storage (expandable to 32GB), and that's pretty much it. Is everything now set in stone? Hardly.
You may remember during the Galaxy Nexus saga that Amazon posted a page calling it the "Samsung Nexus Prime 4G LTE" for weeks if not months ahead of release. As we told you 100x then, the name was Galaxy Nexus, which it ended up being. So Galaxy SIII is not set in stone, nor are these specs. After all, yesterday's massive video leak of a GT-i9300 showed an 8MP camera. Your guess at which is real or not real is as good as the guy sitting next to you at this point. Still fun to talk about though, isn't it?
Via:  Amazon Germany | Android Next
Cheers Frank!