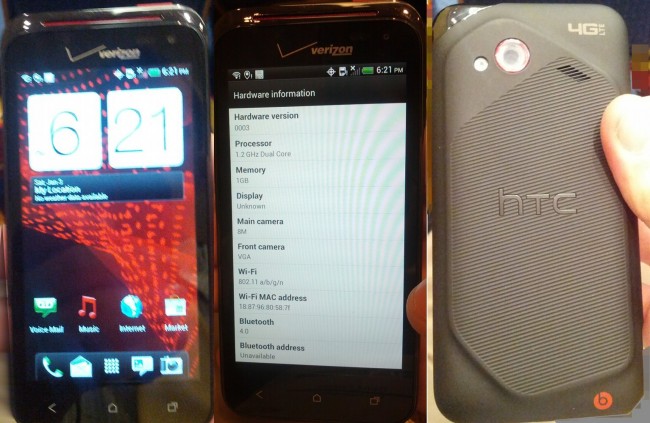 With rumored release dates looming, we knew it wouldn't be long before the Incredible 4G (formerly the HTC Fireball) surfaced. Little was unknown, but this is the first time that we are seeing the device in what appears to be a fairly finished state. It definitely looks like an a newish version of previous Incredibles. If there was an easier way to describe it, just think of it as the Rezound's little brother. 
It looks identical to last year's HTC/Verizon flagship, but packs a 4″ qHD display instead (yes, that would be a downgrade). We know from benchmarks that it sports a 1.2GHz dual-core Snapdragon S4 (an upgrade),  but we are also now finding out that it should have an NFC chip embedded as well. An 8MP rear shooter along with a front VGA camera round out its picture and video taking abilities. It will apparently only carry 8GB of internal storage, but will have an SD card slot so that you can expand that number. Verizon's 4G LTE will be on board along with 1GB of RAM.
The device will run Ice Cream Sandwich (Android 4.0.3) and Sense 4.0, but will not have on-screen soft keys. HTC did tone the hardware keys down to three as we have seen in all of their new phones though.
It sounds like a decent mid-range phone, but if you were expecting it to be the next flagship, you may walk away disappointed. It still should pack a punch with the S4 chip inside, LTE, NFC, and probably one of the better cameras of any Big Red phone.
We spoke with a source last night who was told that the phone would be out within the next 4 weeks.
Update:  We have more pictures posted here.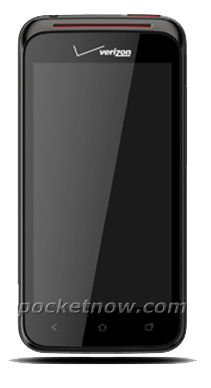 Render via:  PocketNow
Cheers ___!