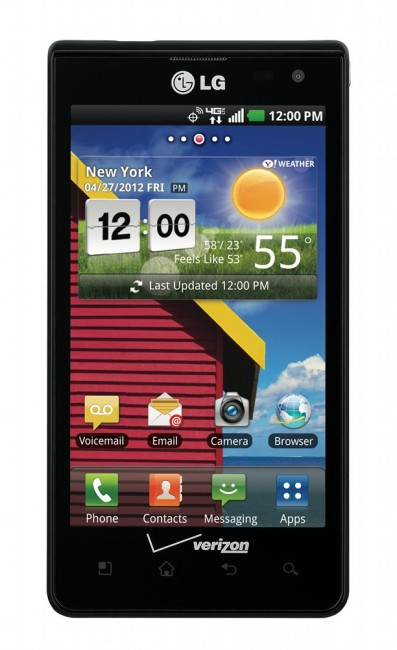 The LG Lucid, a device we first told you about back in February, will be available this Thursday, March 29 (also reported by DL), at Verizon stores for $79.99 after $50 mail-in rebate. As expected, it's a mid-range 4G LTE device that packs a punch, but without some of the top tier features we have seen in some other devices over the last few months. It has a 4″ display, only not of the HD variety. You will find a dual-core processor though, front and rear cameras, Android 2.3, and again, that crazy low price. If you were looking for an affordable, yet semi-powerful phone for your kids, this might be one to consider. 
Step Up To The Verizon Wireless 4G LTE Network With Lucid™ By LG Affordability and Simplicity Combine for an Ideal Mobile Experience

Verizon Wireless and LG Mobile today announced Lucid™ by LG, exclusively for Verizon Wireless, will be available starting March 29 in Verizon Wireless Communications Stores and online atwww.verizonwireless.com.

Lucid by LG is designed to create an easy-to-learn, easy-to-use experience for first-time smartphone users. The slim and compact design features a stunning 4-inch touchscreen display protected by Corning® Gorilla® Glass that gives customers superb brightness, enhanced clarity and readability, even while outdoors. Powered by America's fastest 4G network, Lucid by LG customers have access to 4G LTE coverage in over 200 markets covering more than 200 million people.

Lucid by LG is packed with features to make the smartphone experience easy, while also increasing productivity. Customers can use the lock screen shortcuts to instantly access the phone, messaging, voicemail and camera application from the lock screen. Customers also no longer have to stop what they're doing to reply to texts by using the Quick Reply feature, as text message notifications pop up on the screen and allow customers to reply directly from the Quick Reply notification. The Quick Dialer widget lets customers make calls directly from a home screen panel without having to open the phone application. Additionally, Lucid by LG has Guided Tours right on the device, which provides step-by-step tutorials for customers who want to learn more about their new phone.

Business professionals can take advantage of the Polaris Office app on Lucid by LG which allows customers to easily open, create and edit Microsoft® Office documents, including Word, PowerPoint® and Excel®. Verizon Wireless' 4G LTE network takes Lucid by LG to the next level, loading websites 10 times faster than 3G, making it that much easier for a professional to stay up to speed on recent news and keep in touch with colleagues. The mobile hotspot feature lets professionals connect to up to 10 Wi-Fi-enabled devices to the Verizon Wireless 4G LTE network, making it easy for teams to work from a remote location.

Additional features:

Android™ 2.3 Gingerbread, upgradable to Android 4.0 Ice Cream Sandwich
5-megapixel rear-facing autofocus camera with flash and full HD (1080p) video capture
Front facing camera for video chatting with friends and family
Video Producer – create and edit HD videos right on Lucid by LG
1.2 GHz dual-core processor and 1 GB of RAM for fast Web browsing and multitasking
Virtual QWERTY keyboard with Swype® technology
SmartShare – share media with friends and colleagues wirelessly to DLNA®-enabled devices

Pricing and availability:

Lucid by LG will be available starting March 29 in Verizon Wireless Communications Stores and online atwww.verizonwireless.com for $79.99 after a $50 mail-in rebate with a new two-year customer agreement. Customers will receive the rebate in the form of a debit card; upon receipt, customers may use the card as cash anywhere debit cards are accepted.
Customers who purchase a Lucid by LG will need to subscribe to a Verizon Wireless Nationwide Talk plan beginning at $39.99 monthly access and a smartphone data package starting at $30 monthly access for 2 GB of data.

For more information on Verizon Wireless products and services, visit a Verizon Wireless Communications Store, call 1-800-2 JOIN IN or go to www.verizonwireless.com. Follow @VZWnews on Twitter for the latest news on Verizon Wireless.

About Verizon Wireless

Verizon Wireless operates the nation's largest 4G LTE network and largest, most reliable 3G network. The company serves nearly 108 million total wireless connections, including 92.2 million retail customers. Headquartered in Basking Ridge, N.J., with nearly 82,000 employees nationwide, Verizon Wireless is a joint venture of Verizon Communications (NYSE, NASDAQ: VZ) and Vodafone (LSE, NASDAQ: VOD). For more information, visitwww.verizonwireless.com. To preview and request broadcast-quality video footage and high-resolution stills of Verizon Wireless operations, log on to the Verizon Wireless Multimedia Library atwww.verizonwireless.com/multimedia.

About LG Electronics, Inc.
LG Electronics, Inc. (KSE: 066570.KS) is a global leader and technology innovator in consumer electronics, mobile communications and home appliances, employing more than 93,000 people working in over 120 operations around the world. With 2010 global sales of 55.8 trillion Korean won (USD 48.2 billion), LG comprises four business units: Home Entertainment, Mobile Communications, Home Appliance, and Air Conditioning & Energy Solutions. LG is one of the world's leading producers of flat panel TVs, mobile devices, air conditioners, washing machines, and refrigerators. LG has signed a long-term agreement to become both a Global Partner and a Technology Partner of Formula 1™. As part of this top-level association, LG acquires exclusive designations and marketing rights as the official consumer electronics, mobile phone and data processor of this global sporting event. For more information, please visit www.lg.com.

About LG Electronics Mobile Communications Company
The LG Electronics Mobile Communications Company is a leading global mobile communications and information company. With its cutting-edge technology and innovative design capabilities, LG creates handsets that provide an optimized mobile experience to customers around the world. LG is pursuing convergence technology and mobile computing products, while continuing its leadership role in mobile communication with stylish designs and smart technology. For more information, please visit www.lgmobilephones.com.