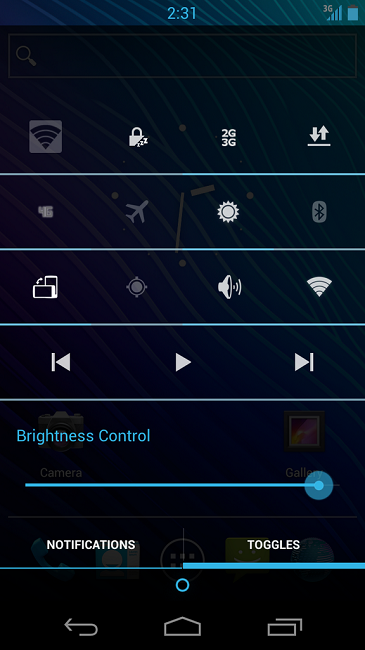 Users of CyanogenMod on the Galaxy Nexus now have another awesome zip that they can flash to change the look and feel of their device. It's called Reloaded Status Bar and if you enjoy having all of your system toggles and music controls right in your status bar, then you are going to love this one. As you can see in the photo above, it doesn't look like their is a single system toggle you can't have in the notification bar. Worried about room for your notifications? Thankfully, there is a separate tab for all of your notifications. 
Features:

– Centered clock
– Modified notifications layout
– Tab for quick toggles (fully configurable from CM9 settings)
– Brightness control (make sure you toggle off auto brightness for this to work)
– Transparent statusbar (might be removed next version if this affects performance)
Instructions for installation:
Download zip file and place on phone's storage.
Reboot into ClockworkMod Recovery.
Create a nandroid backup immediately.
Locate the zip file on your device and install it.
Reboot and enjoy.
If you run in to any issues during installation, let us know down below and we will do our best to help you out.
Via: XDA, Android Spin