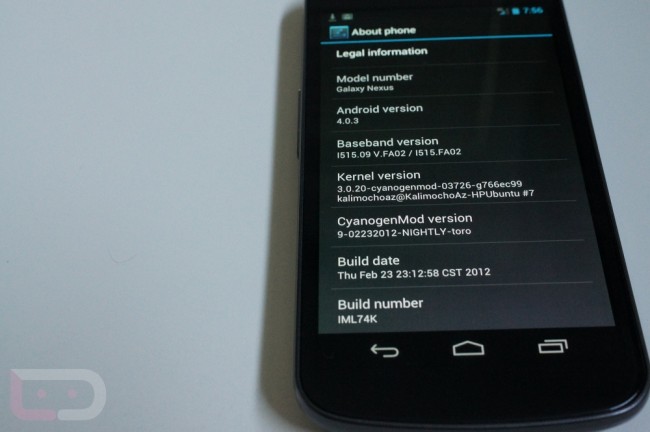 Last night, magic happened. The first CyanogenMod 9 nightlies began to go live starting with all of the Nexus devices including the Galaxy Nexus and XOOM on Verizon. If you haven't been following any of the kangs that have been floating around for a few weeks, then you are in for a treat. This is "official" when it comes to CM9, so feel free to take this Friday and enjoy yourselves. And don't forget, that you need both the ROM and Google apps files since CM builds never include them. 
Download:  update-cm9-nightly-toro-signed.zip | Google Apps
Instructions (for Galaxy Nexus):
1.  Download both the CM9 nightly and Google Apps packages from above to your phone.
2.  Reboot into recovery (using ROM Manager is the easiest way).
3.  Create a backup of your current phone setup. (backup and restore>backup)
4.  Now, wipe data and cache.
5.  Choose "install zip from sd card" and then "choose zip."
6.  Find the toro-signed.zip file that you downloaded from above and install it.
7.  When that finishes, choose the Google apps package that you downloaded and install.
8.  When that finishes, reboot and enjoy CM9!
More builds including the first nightly for the XOOM here.
Cheers tpags, Jigga_Z and Justin!