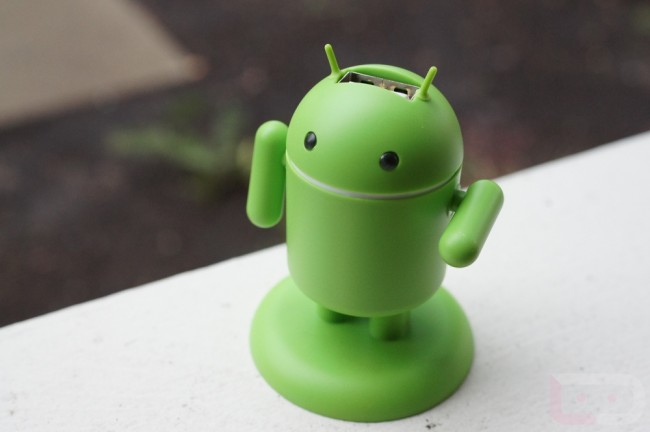 The Andru charger was introduced a couple of weeks back and has since taken the Android collectible world by storm. As the coolest charger you will ever find, Andru lights up while plugged in, has bendable arms, movable antennas, and is your ultimate desk companion.
If your first thought runs along the lines of "Oh, another cheap plastic accessory," then think again. This charger is actually much higher in quality than I had imagined it would be. It is sturdy plastic and rubber, the green and white matching cord feel of the highest quality, and none of the moving parts feel as if they are on the verge of falling off. It's a great little charger for the Android enthusiast in the building.
At $25 a pop, you may have a hard time justifying it especially with the half dozen other chargers you have lying around your house. Trust me though, as an Android fanboy, this is definitely worth it.
Jump past the break for photos and contest details. Yep, we're giving 4 away.  
Contest:
Since we love to give stuff away and the Power by Gen team (makers of Andru) are awesome, we thought we would hand out 4 to the DL community in the simplest of contests. It wouldn't be fair if a number of you didn't have a chance to experience Andru and all of his eye-glowing glory for free. Ready?
Instructions:
In the comments, tell us how many ugly OEM chargers you have lying around your house and where you plan to use Andru (office, bedroom, bathroom, etc.).
We will pick a winner from the comments tomorrow afternoon at 3:00PM Pacific.
Good luck everyone!
Update – Winners:  Our 4 winners taken from the comments are…
Logan Lopez – Hopes that this charger does it in style. It does, my friend.
RadicalPie –  Who has a flush outlet to charge with Bugdroid standing upright. Jealous.
David Larsen –  Just broke a charger and could use such a stylish one.
geedee82 –  Another office Andru on the way!
Congrats guys!
*If you would like to buy Andru right away, hit up the Power by Gen site.