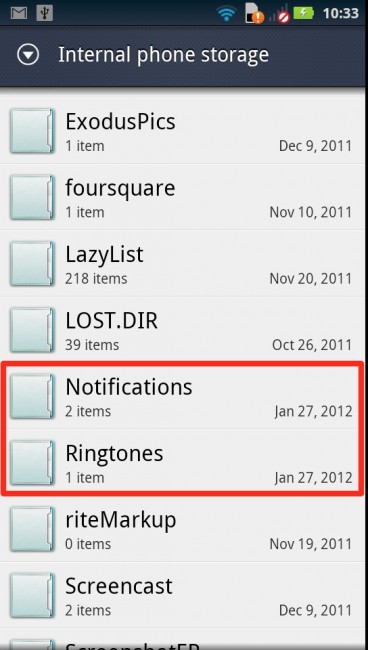 Before you laugh at this tip, you have to understand that Motorola – for whatever reason – has made it increasingly more difficult with each new version of Blur to set custom ringtones. You used to be able to do it through the stock music app, but that option appears to have been removed. When I first setup my RAZR MAXX yesterday, the first thing I went to do was rid it of those awful DROID ringtones that they continue to include in each phone. While I'm the biggest "DROID" advocate around, the ringtones that Moto has associated with the brand will blow your ear drums in seconds while also making you the angriest person on the planet. But I digress.
So, back to this setting of the ringtones business. If you aren't using a ringtone app and are weird or anal like me and create your own, this is how you get them to appear in the "Ringtones" and "Notifications" lists. Since simply dropping them on your SD card or internal storage doesn't work, you will need to follow these simple steps.  
Instructions:
1.  Download the ringtones or notifications to your internal storage.
2.  Create separate folders on your internal storage for "Ringtones" and "Notifications."
3.  Drop your custom ringtones and notifications in each.
4.  Give your phone all of 3 seconds, cruise into your sound settings and they should appear.