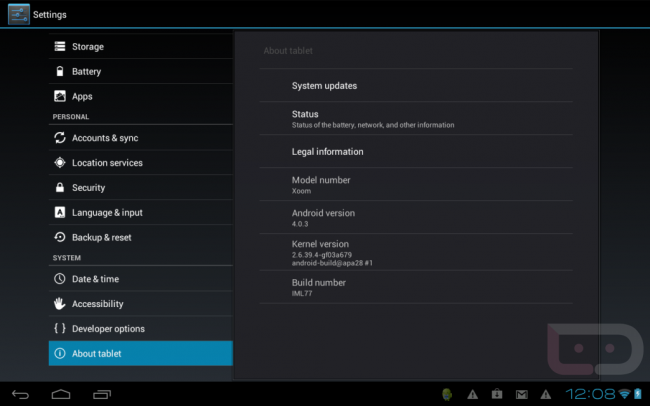 Motorola was kind enough to release the official changelog for the XOOM WiFi's Ice Cream Sandwich (Android 4.0.3) update this afternoon. The push started last night for many, although according to our own Tato, not everyone is able to pull it.
The update itself is, well, ICS. Once you read the changelog below, you will understand that this is as stock as it gets, which is a good thing. The updated browser, swiping of notifications and tasks, new People/Gallery/Camera apps, and improved typing and spell-checking are all included.
Full details after the break.  
Android™ 4.0 (Ice Cream Sandwich) Software Update for the Motorola XOOM™ (IML77)

Introduction We are pleased to announce the new software update for the Motorola XOOM (Wi-Fi). Android 4.0, Ice Cream Sandwich, delivers a refined user interface and introduces innovative features for
tablet users. The software update includes numerous enhancements as well as providing additional features, and will roll out to XOOM. Install today for peak performance. For more information on Motorola updates and product support, visit us at www.motorola.com/myxoom.

Who Can Use This Release: Motorola XOOM Wi-Fi users – USA only

After downloading and installing the software release, you will notice:

Updated Browser with faster rendering, zoom and pan Users can also now save pages for offline reading and request desktop versions of websites.

Swipe to dismiss notifications, tasks, and browser tabs You can now dismiss individual notifications, apps from the Recent Apps list, and browser tabs with a simple swipe of a finger.

Redesigned app launcher In All Apps launcher, you can now simply drag an app to get information about it, immediately uninstall it, or disable a pre-installed app.

New System Font for Improved Readability An entirely new typeface (called Roboto) optimized for high resolution screens improves readability and brings a polished feel to the user interface.

Updated "People" Application Replaces contacts and integrates seamlessly with Google+ and other social networks.

Improved text input and spell-checking The keyboard now features improved accuracy to make text input faster. It also now includes an in-line spell checker to make corrections easier.

Type with your voice Now you can simply touch the microphone on the keyboard and start talking to write emails, SMS, or any other text—more than 20 languages supported. Text appears in real time, so there's no waiting for server processing.

Richer and versatile imaging capabilities For capturing larger scenes, the camera introduces a single motion panorama mode. Also, you can now take still shots while shooting video just by tapping the screen as video continues to record. You can also launch camera directly from the Lockscreen. When you shoot videos, you can now choose from a number of silly faces and other fun effects which
recognize individual facial features so you can give your friends big eyes, squeeze heads, make noses bigger, or change the scenery with background replacement.

Redesigned Gallery app with photo editor To help pictures look their best, the Gallery now offers a powerful photo editor so you can crop and rotate pictures, set levels, remove red eyes, add effects, and much more.

Richer, resizable widgets You can expand widgets to show more content, or shrink them to save space.

You can receive the update over a Wi-Fi connection. If you are not connected via Wi-Fi, or your Motorola XOOM is off when the notification arrives, you will see the notification when you next connect to a Wi-Fi network.

There is no charge for this update (other than any network data charges). Subject to change without notice.
Via:  Twitter, Motorola