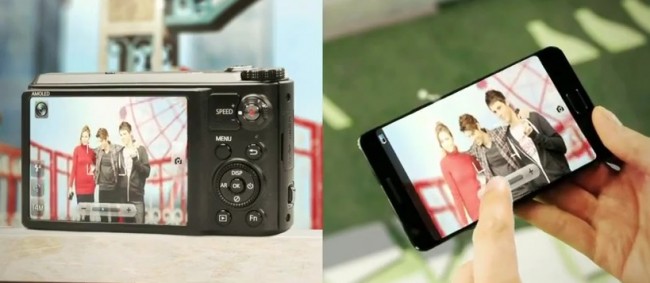 During Samsung's 2012 CES press event, a number of their new products were on display including their point-and-shoot camera lineup. While walking through the demo of them, the Sammie representative on stage kicked off a video, showing that you will soon be able to remotely control things like zooming and picture taking from your smartphone. The phone that was used in the video has got the tech world all excited this morning, as it appears to be some sort of ultra-thin Galaxy S device. Could it be the Galaxy SIII?
Chances are that it is not. Sure, the device has an edge-to-edge screen, is unbelievably thin, and includes that famous physical home key (that we wish would disappear forever) – all things we expect to see on the SGS3. But if you continue to watching past the quick viewfinder demo, a Galaxy SII appears on the screen. This phone is likely just a render and nothing official. We should know for sure next month at Mobile World Congress.
Hit up the 7:00 mark to see the phone in action.  
http://www.youtube.com/watch?v=NxJloZ1Rq0E
Via:  SamMobile