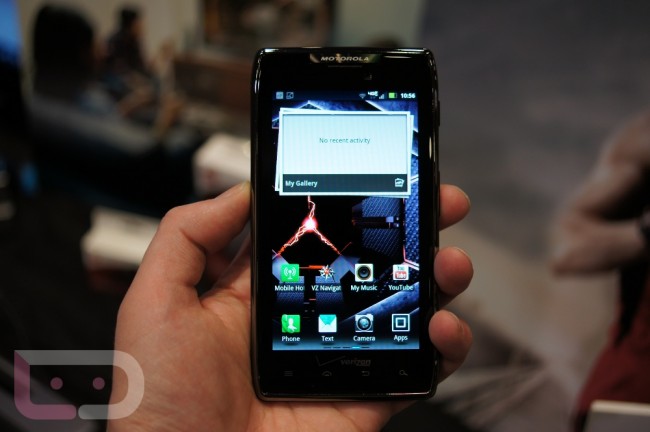 Looking almost identical to the original DROID RAZR, we have in front of us the DROID RAZR MAXX. At first glance, you probably would think that this is the same exact phone, only Motorola thickened it up a tad by somehow upping the battery from 1780mAh to 3300mAh. Yep, that's a ton of battery juice. The rest of the specs all remain the same when you compare it to the regular RAZR, but this phone – according to Motorola reps – will get you through 2.5 days of streaming music, 21+ hours of talk time, and even more when sitting idle. This is clearly the Android phone for the daily grinder that can't seem to find the time to plug in their device every few hours.
First impressions? Truthfully, I'm a little mad that this wasn't released originally instead of the DROID RAZR. At 8.99mm thick, it is still incredibly thin and would have given the Nexus a real run for top dog status knowing that it had such a massive battery inside. It feels great in hand with that added thickness over the regular RAZR, but it is definitely not "thick."
For more shots, including some of it compared to the Nexus, hit up the break. Purple RAZR also below.  
_______________________________________
So, there is your purple DROID RAZR. There are absolutely no differences from this to the white or regular RAZR other than color. Well, that's not 100% accurate. This phone will land at $199 on 2-year contract, as Verizon is cutting out the SD cards on these three non-MAXX versions going forward. Once the purple version and RAZR MAXX are released, all regular RAZRs will drop to $199, meaning they only have onboard storage. Now, you can toss in your own SD card if you like, but at purchase, it will not come with one. The RAZR MAXX then, will drop in at $299.