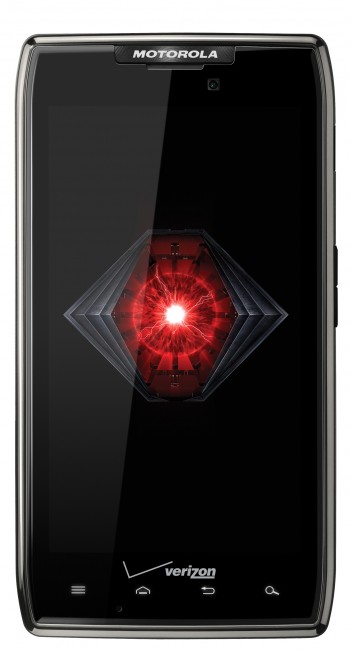 Not to be out done by the impressive lineup that AT&T just got done announcing here at CES, Verizon has popped off with two new DROID phones to add to their collection (well three technically if you count the DROID 4). The new DROID RAZR MAXX which is a slightly thicker RAZR, but with a beefed up battery and then a purple version of the original DROID RAZR are both on their way.
The MAXX can reportedly last up to 21 hours on a single charge with steady use, however, Verizon wasn't specific as to how big the battery is inside. And other than it now being 8.99mm thick (regular RAZR is 7.1mm), the specs remain the same. Motorola must have heard the cries of those of you who weren't excited about the original RAZR's non-removable battery. Well, this one likely won't be removable either, but it should last you a bit longer.
The other phone is a purple RAZR. Yep, purple. Nothing else has changed.
Both phones will be available in the "coming weeks." The RAZR MAXX will be priced at $299 on contract with the purple RAZR landing at $199. That must mean that the regular white and black RAZRs will also drop to $199?
Images and press release below.  
Verizon Wireless And Motorola Announce New Additions To DROID Family At CES 2012

New DROIDS and New Colors – Verizon Wireless and Motorola Have Something for Everyone

LAS VEGAS, NV and BASKING RIDGE, NJ — From the 2012 International Consumer Electronics Show (CES), Verizon Wireless and Motorola Mobility, Inc. (NYSE: MMI) today announced an expansion of the DROID RAZR™ family. In coming weeks, customers will see the DROID RAZR™ by Motorola in Purple and the DROID RAZR™ MAXX™ by Motorola. Both new DROIDs are powered by America's fastest, most reliable 4G network and build upon the successful DROID RAZR by Motorola.

DROID RAZR – Thin, Powerful and now in Purple

DROID RAZR in Purple will debut in the coming weeks with 16 GB on-board memory and gives customers a third stylish option from which to choose. Regardless of color – classic Black, pristine White or Purple, the DROID RAZR is equipped with the same great features that let customers search the Web or download more than 300,000 Android Market™ apps at breakneck speeds on the Verizon Wireless 4G LTE network. The DROID RAZR in Purple will be $199.99 with a new two-year customer agreement.

Taking DROID RAZR to the MAXX

The DROID RAZR MAXX by Motorola will join the DROID family for customers who want all the great features of the DROID RAZR, but need a smartphone that overachieves. DROID RAZR MAXX is designed for customers who spend their days and nights multi-tasking. This smartphone is a marathon runner with enough endurance to let customers talk on the phone for more than 21 hours straight on a single charge. It's the longest-lasting smartphone on the block, and at just 8.99 mm, the device is still impossibly thin. The DROID RAZR MAXX comes equipped with 32 GB of total memory and will be $299.99 with a new two-year customer agreement.

The DROID Family by Motorola Complete with Tablets

The DROID family also includes the two recently launched DROID XYBOARD tablets by Motorola. Both boast the blazing speeds of Verizon Wireless' 4G LTE network and the power of dual-core 1.2 GHz processors for lightning-fast Web browsing and multi-tasking. Customers can select what size XYBOARD they want to command by choosing either the 10.1-inch or 8.2-inch DROID.

Ice Cream Sandwich Update

DROID RAZR and DROID RAZR MAXX are powered by the Verizon Wireless 4G LTE network and run on Android™ 2.3.5 Gingerbread, to be upgraded to Android™ 4.0 Ice Cream Sandwich. The DROID XYBOARD tablets will also be upgraded to Android 4.0. Both DROID smartphones will be available in Verizon Wireless Communications Stores and online at www.verizonwireless.com in the coming weeks.

Additional Features and Smart Accessories

A full suite of accessories that extend the power of DROID RAZR and DROID RAZR MAXX by Motorola are also available from Verizon Wireless. Accessories compatible with both DROIDs include the 10.1-inch Lapdock 100, 14-inch Lapdock 500 Pro with built-in webcam and Ethernet connection, HD Dock, HD Station and vehicle navigation mount. Plus, each device has all the software needed to customize DROID RAZR or DROID RAZR MAXX to the fullest. Stream music, photos and videos from home or work computers straight to the smartphone with MotoCast™, or automate everyday tasks by creating rules using Smart Actions.

Data Plans

Customers that purchase a DROID RAZR or DROID RAZR MAXX will need to subscribe to a Verizon Wireless Nationwide Talk plan beginning at $39.99 monthly access and a smartphone data package starting at $30 monthly access for 2 GB of data. Customers that purchase a DROID XYBOARD tablet will need to subscribe to a Verizon Wireless Mobile Broadband data plan starting at $30 monthly access for 2 GB of data.

For more information on Verizon Wireless products and services, visit a Verizon Wireless Communications Store, call 1-800-2 JOIN IN or go to www.verizonwireless.com.

About Verizon Wireless
Verizon Wireless operates the nation's largest 4G LTE network and largest, most reliable 3G network. The company serves 107.7 million total wireless connections, including 90.7 million retail customers. Headquartered in Basking Ridge, N.J., with nearly 83,000 employees nationwide, Verizon Wireless is a joint venture of Verizon Communications (NYSE, NASDAQ: VZ) and Vodafone (LSE, NASDAQ: VOD). For more information, visitwww.verizonwireless.com. To preview and request broadcast-quality video footage and high-resolution stills of Verizon Wireless operations, log on to the Verizon Wireless Multimedia Library atwww.verizonwireless.com/multimedia.

About Motorola Mobility
Motorola Mobility, Inc. (NYSE:MMI) fuses innovative technology with human insights to create experiences that simplify, connect and enrich people's lives. Our portfolio includes converged mobile devices such as smartphones and tablets; wireless accessories; end-to-end video and data delivery; and management solutions, including set-tops and data-access devices. For more information, visit motorola.com/mobility.

All talk and standby times are quoted in Digital Mode, and are approximate. Battery performance depends on network configuration, signal strength, operating temperature, features selected, and voice, data and other application usage patterns.

MOTOCAST supports many popular file formats and codecs. Additional software is necessary to enable use of unsupported files on your mobile phone. DRM-protected content is not supported. Respect the rights of copyright owners by only using MOTOCAST to stream and sync authorized content.

MOTOROLA and the Stylized M Logo are registered trademarks of Motorola Trademark Holdings, LLC. Facebook is a trademark of Facebook, Inc. Adobe and Adobe Flash are trademarks of Adobe Systems Incorporated in the United States and other countries. Google, Android Market, Google Maps Navigation Beta, Google Mail, and YouTube are trademarks of Google, Inc. DLNA is a service mark of Digital Living Network Alliance in the United States and other countries. All other trademarks are the property of their respective owners. © 2012 Motorola Mobility, Inc. All rights reserved.

####
______________________
Some of our best videos.