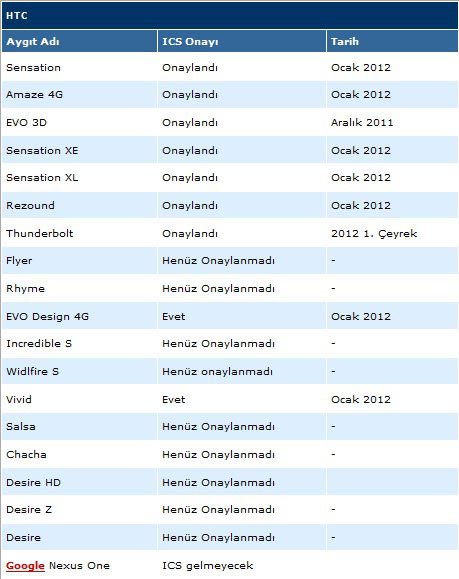 Update:  We're not so sure now that this list is actually real. The Facebook page has been pulled, and was reportedly not even from an HTC employee. Go ahead and ignore this one, folks.
HTC has taken to their Facebook page in Turkey to provide their hungry users with some much wanted information. This info has to do with the upgrades to Android 4.0 Ice Cream Sandwich for their 2011 handsets. Almost 8 phones are listed as being worked on for upgrades already  for release in the first quarter of 2012. Aside from the EVO 3D, which was said to have an update of December 2011, the HTC Amaze 4G, Sensation, EVO Design 4G and Vivid are all on this list.
The HTC Rezound and Thunderbolt are also on this list, but one interesting note about the Thunderbolt. It is the only phone with a "confirmed" Q1 update status as opposed to the rest of the phones "unavailable." While that is nothing to set in stone it's at least comforting to know that HTC is working hard to bring people ICS who were early adopters of 4G LTE. Making a list of upgrades is one thing, but 8 phones in a month is one tall order, is HTC ready for that?
Via: Pocketnow, Facebook