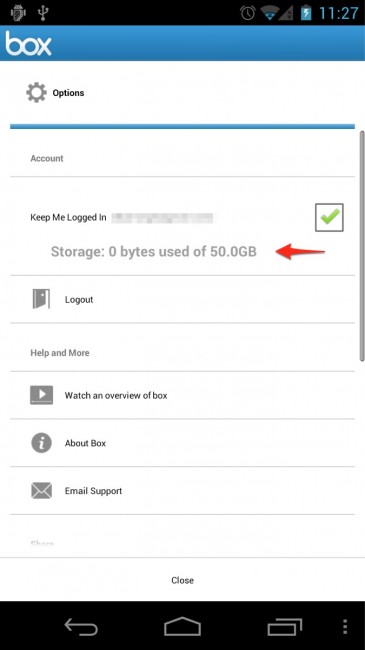 Box and it's cloud storage service is apparently running some sort of free 50GB upgrade for owners of the Sony Xperia Play and various LG phones through the end of the year (yep, just 3 days left). Why we aren't see it for every Android phone is beyond me, but Sony and LG likely struck some sort of deal to make their devices look more appealing. If you don't own either though, you can get the 50GB thanks to a handy little app created by developer redphx. Previous attempts to get devices the free space were limited to rooted phones and forced you to edit your build.prop, but this new app allows you to get it by simply signing into your Box account.
*Note – One of the permissions does include Internet Access which may scare some of you since you are using your account login to get the deal. The developer assures us that "no email or password is stored," but how can you really tell? Proceed with caution. I can say that my account does indeed have 50GB of storage now after using this app though.
*Note 2 – As reader ksat has mentioned, a simple password change in your Box.net account should ease your concerns after using this app.
Market Link
Cheers Adam!