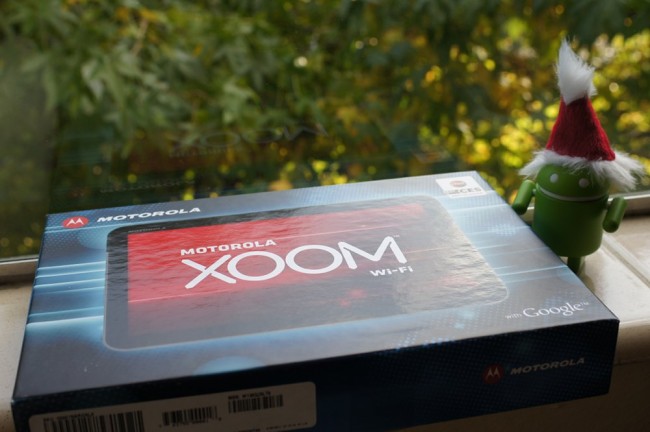 It's Day 5 of DL and NVIDIA's Two Weeks of Holiday Tegra.  We have been handing out tablets all week long and here is this week's last chance to win a Tegra 2 powered device.  But don't worry, starting next Monday we have a whole week more of tablet giveaway madness.
The Motorola XOOM is the first Android device to rock Google's Honeycomb operating system.  When updates roll out, this device is the first to get them.  The XOOM comes loaded with 32GB of storage, a dual-core processor, and dual-cameras.  With an easily unlockable bootloader and plenty of developer support, you can be sure to remain happy with the XOOM for a long time.  
Update:  And the winner of the Motorola XOOM is…
Roady672 who has a New Year's resolution to slim his "fat a$$ down!"
Hopefully planting yourself on a couch to game with this new tablet will help get you to your goal. 🙂
Prize:
1 (one) Motorola WiFi XOOM.
How to enter:
1.  In the comments, tell us one of your New Year's resolutions.
2.  Follow @droid_life and @NVIDIATegra on Twitter.
3.  Tweet the following message:
Need a last minute X-Mas present? Win a WiFi Motorola XOOM from @droid_life and @NVIDIATegra – http://goo.gl/2CyW8 #android
4.  U.S. residents only.
Winner:
At 5PM Pacific, we will randomly chose a winner from the comments. This post will be updated, comments closed, and the winner notified. Prizes will be shipped at the end of the week.