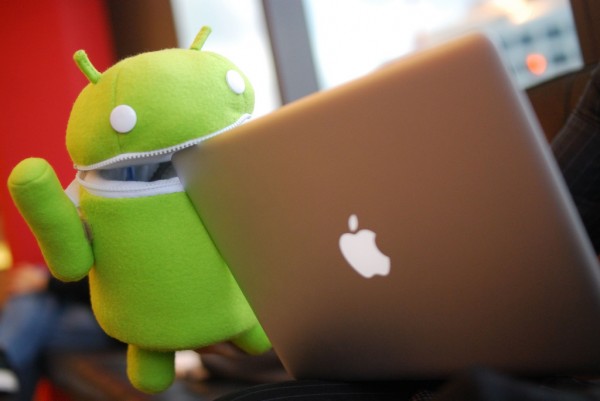 File this one under surprising, a German court has ruled in favor of Motorola in their lawsuit with Apple. Back in April, Motorola filed two patent-infringement lawsuits against the Cupertino based company's iOS devices. The mobile giant claimed Apple had infringed on one of their core cellular communications patents related to data packet transfer technology. If the ruling is upheld (we all know there will be an appeal), Apple will be forced to either remove the technology or pay a hefty licensing fee to Moto.
Motorola now has the option to enforce a Europe-wide iOS ban immediately, or wait until after the appeals process is through. If they opt to enforce the ban right away, Motorola must cough up $134 million bond – in case the verdict is overturned in appeal.
In less than 48 hours, Apple has been hit with three devastating court rulings. The Australian High Court ruled that Samsung's Galaxy Tab 10.1 did not infringe on any patents, a U.S. court rejected Apple's case to ban Galaxy devices stateside and now the German courts have ruled in favor of Motorola. Is this the definition of irony?
German Court Rules in Favor of Motorola Mobility in Apple Litigation
Court grants Motorola Mobility's requests for injunction and damages

Dec. 09, 2011

LIBERTYVILLE, Ill., Dec. 9, 2011 – Motorola Mobility Holdings, Inc. (NYSE: MMI) ("Motorola Mobility") today announced that the court in Manheim, Germany (the "Court") has ruled that Apple's (NASDAQ: AAPL) European sales company, Ireland-based Apple Sales International, is infringing one of Motorola Mobility's core cellular communications patents related to data packet transfer technology (GPRS) through its sales of the iPhone and iPad devices. The Court granted Motorola Mobility's requests for an injunction and damages.

"We are pleased with the court's ruling. Today's decision validates Motorola Mobility's efforts to enforce its patents against Apple's infringement," said Scott Offer, senior vice president and general counsel of Motorola Mobility. "Motorola Mobility has worked hard over the years to build an industry-leading intellectual property portfolio that is respected by the telecommunications industry, and we are proud to leverage this portfolio to create differentiated innovations that enhance the user experience. We will continue to take all necessary steps to protect our intellectual property, as the Company's patent portfolio and licensing agreements with companies both in the U.S. and around the world are critical to our business. We have been negotiating with Apple and offering them reasonable licensing terms and conditions since 2007, and will continue our efforts to resolve our global patent dispute as soon as practicable."

Business Risks

This press release includes forward-looking statements within the meaning of Section 27A of the Securities Act of 1933 and Section 21E of the Securities Exchange Act of 1934. Forward-looking statements include, but are not limited to, statements about future actions with respect to this litigation and other future actions. Forward-looking statements involve certain risks and uncertainties that could cause actual results to differ materially from those indicated in such forward-looking statements, including but not limited to our successful protection of our intellectual property in this litigation and in other pending and future matters; and the other risks and uncertainties contained and identified in Motorola Mobility's filings with the Securities and Exchange Commission (the "SEC"), any of which could cause actual results to differ materially from the forward-looking statements. The forward-looking statements included in this press release are made only as of the date hereof Motorola Mobility does not undertake any obligation to update the forward-looking statements to reflect subsequent events or circumstances or update the reasons that actual results could differ materially from those anticipated in forward-looking statements, except as required by law.

About Motorola Mobility
Motorola Mobility, Inc. (NYSE:MMI) fuses innovative technology with human insights to create experiences that simplify, connect and enrich people's lives. Our portfolio includes converged mobile devices such as smartphones and tablets; wireless accessories; end-to-end video and data delivery; and management solutions, including set-tops and data-access devices. For more information, visit motorola.com/mobility.