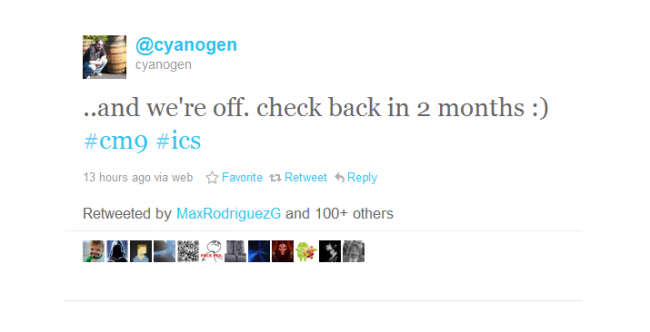 With the source code for Ice Cream Sandwich seeing a release just yesterday, the wait for CyanogenMod 9 has begun.  Steve (aka Cyanogen) took to Twitter last night to let the world know that their Android 4.0 journey was taking off and that you should all check back in "2 months" for progress. We have a feeling we'll start seeing progress sooner than that, but will do our best to avoid asking for updates
So which device will CM9 appear on first?  I was asked that question yesterday by a good friend and to be honest, I have no clue.  Besides Nexus devices, I could see this being on the Moto XOOM before other devices, or even the OG DROID.  An unlocked bootloader will certainly help in the race to ICS.
Via: Twitter
______________________
Some of our best videos.