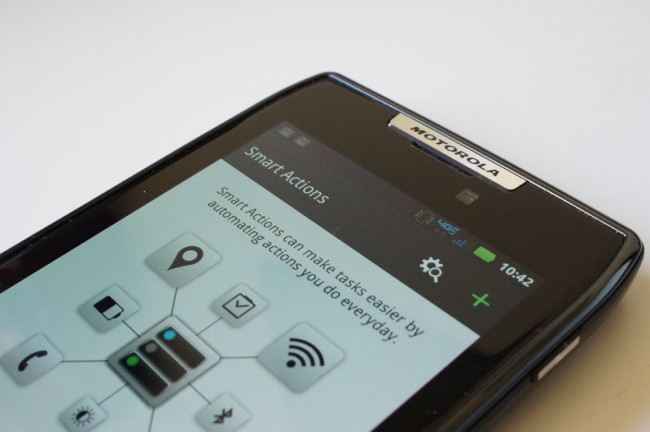 Since Motorola decided to make the new DROID RAZR one of the thinnest smartphones on the planet, that meant they were going to have to cut a corner somewhere. That corner, was a battery that can't be removed. It actually seems crazy knowing that most of us purchase extended or backup batteries as a safety precaution to combat the current power destroying LTE technology. Moto has a plan though. In order to help ease your mind on life with a non-removable battery, they built in an app called Smart Actions, that allows you to customize and "optimize your smartphone for your life."
It's very similar to apps like Locale and Tasker – it uses location, time of day, and the task at hand to launch apps, turn off settings, and make your phone and life perform more efficiently. There are built-in preset actions that you can adopt immediately or you can get technical and build your own.
I haven't had a chance to play with these all that much just yet, but you can bet that I will. As someone that carries two phones for the most part because I understand how difficult it can be to get through a day on LTE, I'll be tweaking away to find which settings will push a single charge further. According to the v ideo below, you can apparently adjust a couple of settings and extend your battery up to 30%. Let's see if we can figure out which those are.  
http://www.youtube.com/watch?v=PrAndZ-6Dio