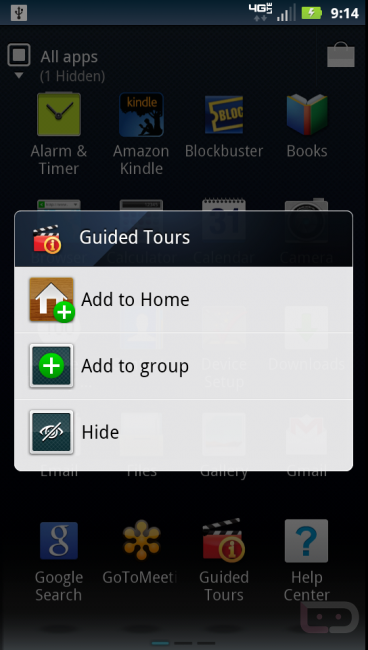 When you pick up your DROID RAZR tomorrow (or if your pre-order arrives today), you'll probably notice that Verizon has slightly changed their stance on the bloatware that will come preloaded. It still has a boatload of it, but after long pressing on a couple of the ol' standards, I was greeted with some interesting new options. As you can see in the screenshot on the left, Guided Tours may not be uninstallable, but you now have the option to at least "Hide" it. In previous versions of Blur, this wasn't available and you were forced to download a third party launcher or create a special app drawer folder in order to complete such a task.
On the right, we are seeing Blockbuster, an app that we just can't seem to get rid of. On the RAZR, you can. Same thing with GoToMeeting, Let's Golf and Madden. Also, after cruising around the phone over the last few hours, I don't feel the excessive amounts of bloatware spammed across every screen. There are a few VCAST apps, just not nearly as many as were once loaded onto these devices.
It may still come pre-loaded and hidden away in a system folder somewhere if you try to remove it, but at least we are moving in the right direction.