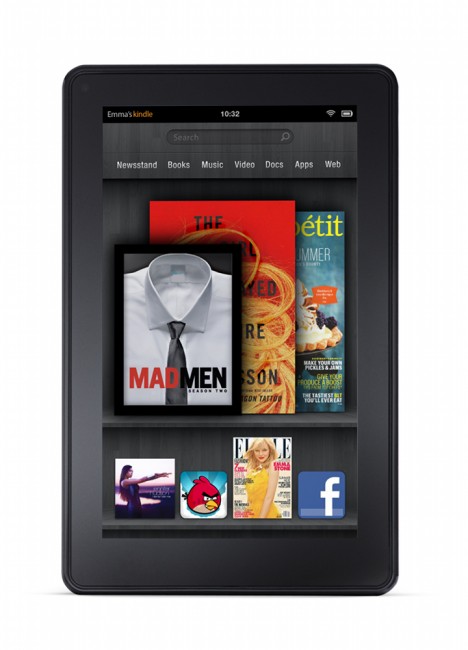 Amazon sent out a press release just minutes ago to remind everyone that their Kindle Fire is the real deal, is only a week away, and will run all of your favorite Android apps including Facebook, Pandora, Netflix, Angry Birds and more. Thanks to the buit-in Amazon AppStore, any of the apps you purchase or use are also available on any of your other Android devices, just like you experience now (that would include your catalog of free "Apps of the Day" too). No need to re-register from device to device; simply login and get back to mowing down zombies through PvZ.
Most of the apps have also been "Amazon-tested" to work with the Kindle Fire, which probably doesn't mean that there will be special Fire versions, but that they have simply been tested to work. Think about it, it took Facebook almost 2 years to produce an iPad-specific app, the Fire isn't getting that lucky.
Priced at $199, you can pick one up at a variety of retailers nationwide starting on November 15. Of course, you can pre-order one now and have it shipped to your door that very same day, but we know how some of you enjoy stepping foot in big box stores to pick up the latest buzzworthy product. 
Facebook, Pandora, Netflix, Rhapsody, Games from Electronic Arts, Zynga and Rovio, and Several Thousand More Apps and Games Coming To Kindle Fire Next Week

Just like with movies and TV shows, music, books, and magazines, Kindle Fire offers a fully-integrated Android apps and games experience – purchase or register for an app or game once, enjoy it on your Kindle Fire and other Android-based devices – and all apps and games are backed up in the Amazon Cloud for re-download anytime

SEATTLE, Nov 09, 2011 (BUSINESS WIRE) —

(NASDAQ: AMZN) – When Kindle Fire customers across the country open their boxes next week, they will be able to choose from several thousand of the most popular Android apps and games, including Netflix, Rhapsody, Pandora, Twitter, Comics by comiXology, Facebook, The Weather Channel and popular games from Zynga, EA, Gameloft, PopCap and Rovio. Kindle Fire customers will be able to download these apps and games without having to register multiple times and using Amazon's simple and secure 1-Click payment technology. Plus, all apps are Amazon-tested on Kindle Fire for the best experience possible, customers can get a great "paid" app for free every day, and once you've downloaded an app from the Amazon Appstore, it's available on Kindle Fire as well as your other Android-based devices.

"We started talking to app developers everywhere the day we introduced Kindle Fire, and the response has been overwhelming," Dave Limp, Vice President, Amazon Kindle. "In addition to over 18 million movies, TV shows, songs, books, and magazines from Amazon, we are excited to offer customers thousands of apps and games to choose from on Kindle Fire – from Pandora and Rhapsody to Facebook and Twitter to Netflix, as well as popular games from EA, Zynga and many other top game developers. And this is only the beginning – we're adding more apps and games every day across all categories."

With the Netflix app, Kindle Fire customers who are Netflix members can browse and instantly watch unlimited TV shows and movies and resume watching where they left off on their TV or computer. "We're excited to team up with Amazon to give what we think will be a huge community of Kindle Fire owners the opportunity experience all that Netflix has to offer," said Bill Holmes, Vice President of Business Development at Netflix. "We're certain that our members will have a great viewing experience on Kindle Fire."

"EA is proud to be part of Kindle Fire," said Bernard Kim, Senior Vice President & Head of Global Sales and Marketing at Electronic Arts. "On Kindle Fire, we're offering some of the world's most popular titles with incredible gameplay and breathtaking graphics that anyone can play and enjoy anytime, anywhere."

"Zynga strives to deliver the best mobile social gaming experiences that can be enjoyed by players anytime and anywhere," said David Ko, Chief Mobile Officer at Zynga. "Teaming with Amazon to make Words With Friends a featured game on the Kindle Fire provides us with a great way to reach new and existing players on a fresh and exciting device."

"As Gameloft continues to create games for the mass market, Kindle Fire comes as a very exciting new platform for us to offer our games on," said Baudouin Corman, Vice President of Publishing for the Americas at Gameloft. "Not only does it provide us with an innovative channel for us to reach new audiences, but the tablet is set to enable a great gaming experience as well. In effect, we plan on providing Kindle Fire customers with a large catalog of top quality premium and free-to-play games."

"We're excited to be bringing our massively popular games to Kindle Fire," said Andrew Stein, Director of Mobile Product Management at PopCap Games. "Kindle Fire is a great gaming device, and consumers will love the touch-screen optimized adaptations of top titles such as Plants vs. Zombies."

"Personalized radio has the power to enhance all types of experiences anytime, anywhere and we're thrilled that Pandora is a launch app on the new Kindle Fire," said Jessica Steel, Executive Vice President of Business and Corporate Development at Pandora.

"We are really stoked to offer our members the Rhapsody experience on one of the most anticipated new devices this holiday season," said Brian McGarvey, Vice President of Business Development for Rhapsody. "We want to make sure Rhapsody is available on every must-have device, including the Kindle Fire."

"Being a featured app on Kindle Fire will allow The Weather Channel to continue to fulfill our mission of providing consumers with the most reliable weather information to help plan their daily lives – no matter where they are and what device they use," said Cameron Clayton, Executive Vice President of Digital Product at The Weather Channel Companies.

Additional examples of apps and games that will be available to Kindle Fire customers include Allrecipes, Bloomberg, Cut the Rope, Doodle Fit, Doodle Jump, Fruit Ninja, Jenga, LinkedIn, Zillow, Airport Mania, Battleheart, Pulse, The Cat in the Hat, Quickoffice Pro, Jamie's 20-Minute Meals, IMDb Movies & TV, and Monkey Preschool Lunchbox.

Kindle Fire offers more than 18 million movies, TV shows, songs, books, magazines, apps and games, as well as free storage in the Amazon Cloud, Whispersync for books and movies, a 14.6 ounce design that's easy to hold with one hand, a vibrant color touch screen, a powerful dual-core processor and Amazon Silk – Amazon's new revolutionary web browser that accelerates the power of the mobile device by using the computing speed and power of the Amazon Web Services Cloud – all for only $199. Customers also enjoy a free month of Amazon Prime, providing access to Prime Instant Video with 13,000 movies and TV shows available for unlimited streaming and the new Kindle Owners' Lending Library where Kindle owners can now choose from thousands of books to borrow for free including more than 100 current and former New York Times Bestsellers – as frequently as a book a month, with no due dates.

Customers in the U.S. can pre-order Kindle Fire at www.amazon.com/kindlefire and it ships November 15. For high resolution images and video of the all-new Kindle Fire, visit www.amazon.com/pr/kindle.

About Amazon.com

Amazon.com, Inc. (NASDAQ: AMZN), a Fortune 500 company based in Seattle, opened on the World Wide Web in July 1995 and today offers Earth's Biggest Selection. Amazon.com, Inc. seeks to be Earth's most customer-centric company, where customers can find and discover anything they might want to buy online, and endeavors to offer its customers the lowest possible prices. Amazon.com and other sellers offer millions of unique new, refurbished and used items in categories such as Books; Movies, Music & Games; Digital Downloads; Electronics & Computers; Home & Garden; Toys, Kids & Baby; Grocery; Apparel, Shoes & Jewelry; Health & Beauty; Sports & Outdoors; and Tools, Auto & Industrial. Amazon Web Services provides Amazon's developer customers with access to in-the-cloud infrastructure services based on Amazon's own back-end technology platform, which developers can use to enable virtually any type of business. The new latest generation Kindle is the lightest, most compact Kindle ever and features the same 6-inch, most advanced electronic ink display that reads like real paper even in bright sunlight. Kindle Touch is a new addition to the Kindle family with an easy-to-use touch screen that makes it easier than ever to turn pages, search, shop, and take notes – still with all the benefits of the most advanced electronic ink display. Kindle Touch 3G is the top of the line e-reader and offers the same new design and features of Kindle Touch, with the unparalleled added convenience of free 3G. Kindle Fire is the Kindle for movies, TV shows, music, books, magazines, apps, games and web browsing with all the content, free storage in the Amazon Cloud, Whispersync, Amazon Silk (Amazon's new revolutionary cloud-accelerated web browser), vibrant color touch screen, and powerful dual-core processor.

Amazon and its affiliates operate websites, including www.amazon.com, www.amazon.co.uk, www.amazon.de, www.amazon.co.jp, www.amazon.fr,www.amazon.ca, www.amazon.cn, www.amazon.it, and www.amazon.es. As used herein, "Amazon.com," "we," "our" and similar terms include Amazon.com, Inc., and its subsidiaries, unless the context indicates otherwise.

Forward-Looking Statements

This announcement contains forward-looking statements within the meaning of Section 27A of the Securities Act of 1933 and Section 21E of the Securities Exchange Act of 1934. Actual results may differ significantly from management's expectations. These forward-looking statements involve risks and uncertainties that include, among others, risks related to competition, management of growth, new products, services and technologies, potential fluctuations in operating results, international expansion, outcomes of legal proceedings and claims, fulfillment center optimization, seasonality, commercial agreements, acquisitions and strategic transactions, foreign exchange rates, system interruption, inventory, government regulation and taxation, payments and fraud. More information about factors that potentially could affect Amazon.com's financial results is included in Amazon.com's filings with the Securities and Exchange Commission, including its most recent Annual Report on Form 10-K and subsequent filings.