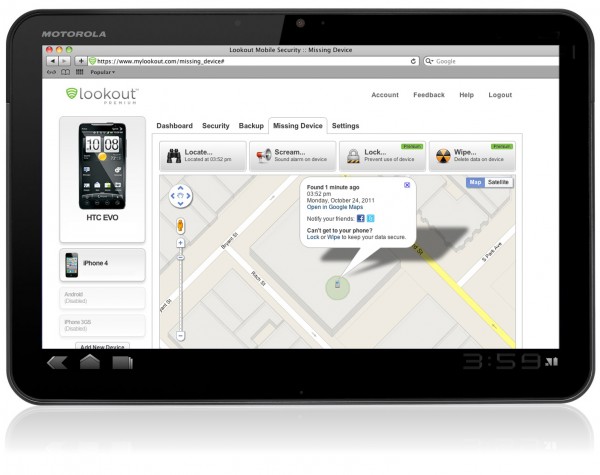 Lookout Security has been making sure that Android users feel safe by providing their services for quite some time now. With device tracking, checking apps for viruses and a lot of other safety features it has become very popular among users. Lookout has just upped the bar with their new support for Android tablets. Hooray.
At Lookout, we know tablets are the new mobile frontier, so we made our same smartphone security protection and find-my-phone functionality available on any tablet or iPad—including Honeycomb, Ice Cream Sandwich and WiFi-only tablets. So regardless of which kind of tablet or iPad you have, you can keep your device safe.
Now as we can see in the above image, when you open up your Apple/Safari browser on your Motorola XOOM, you can track your devices, remote wipe, lock and set your device to "scream" so those pesky thieves get so annoyed they hopefully just give up.