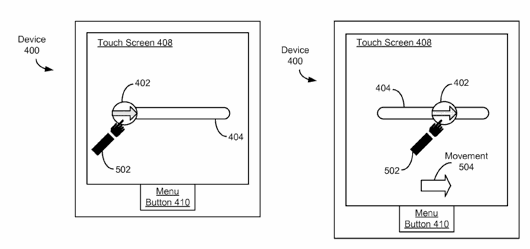 Yesterday, the United States Patent & Trademark Office issued a patent grant to Apple for their Slide to Unlock gesture. Since the release of the iPhone this gesture has been seen in almost every phone, found in both Android and WebOS. The USPT Office has described what other companies are now restricted from including in their touch-senstivie operating systems:
"The device is unlocked if contact with the display corresponds to a predefined gesture for unlocking the device. The device displays one or more unlock images with respect to which the predefined gesture is to be performed in order to unlock the device."
In layman's terms, companies who use a simple slide to unlock gesture will be violating Apple's patent. However, is this really Apple's patent? Well according to the United States Patent Office, yes it is – even though a Dutch court has ruled it invalid. The court ruled that the slide to unlock patent is invalid because of the Neonode N1m, an early Swedish smartphone. In the video below (around the 4:00 mark) you can see the N1m uses an early slide to unlock feature, thus proving that "prior art" existed.  
If prior art can be proven, a patent will be invalid. Samsung has already brought this device to light in the Netherlands, and I guarantee others will do the same elsewhere. For now, Android should be safe from the lawyers of Apple – at least when it comes to unlocking your device.