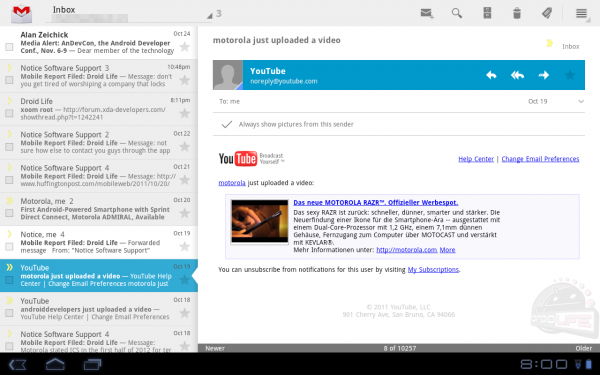 A fine friend of ours pointed out over the weekend that the new Gmail app from the Ice Cream Sandwich dump that MDW leaked actually works fairly well on the Motorola XOOM (there is a chance it works on other tablets too). It offers up a slightly tweaked UI over the current Honeycomb Gmail with more polish, gives you attachment previews in a bigger and bolder way, lets you back up offline data for 30 days (or however many days you set), and even lets you quickly swipe between messages. This new Gmail app, when finally released for everyone, is going to be fantastic.  
Version number and 30 day email offline sync:
New color scheme and attachment previews:
Swiping between email messages:
Other UI enhancements: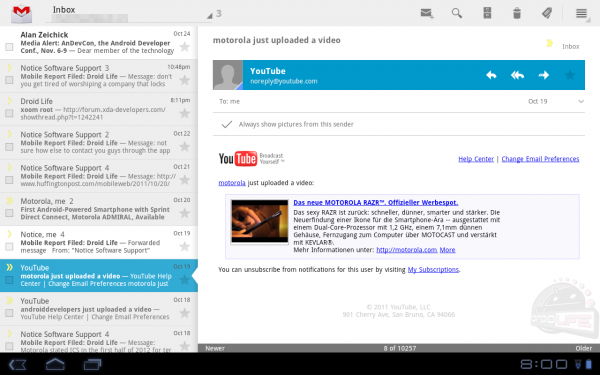 Download:  Gmail.apk
*Note – I was only able to get this to work if I rooted, backed up my old Gmail app, and then replaced it with this one. Feel free to try and install right over the top, but if it doesn't work, then you will need to root and use the instructions below.
Instructions:
1.  Download the file from above onto your SD card.
2.  Using Root Explorer, copy the file and then head into /system/app.
3.  Press the "Mount R/W" button.
4.  Find Gmail.apk, long press on it and rename to "Gmail.apk.bak" or something similar.
5.  Now, hit the "Paste" button to paste your new Gmail.apk.
6.  Once pasted, tap on it to install it.
7.  When it finishes, you may need to change the permissions to (long press choose "Permissions":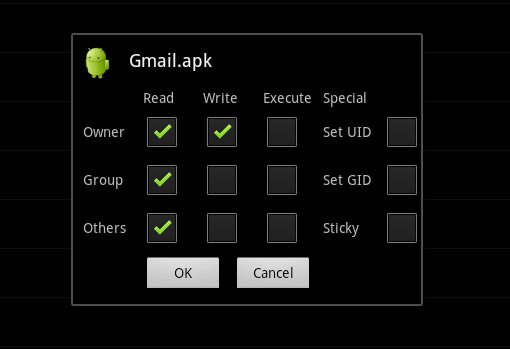 8.  Then press the "Mount R/O" button and enjoy your new Gmail.
9.  You may need to reboot.
If you have a different tablet that the XOOM, be sure to let us know if this works. Already hearing that it will work on the Asus Transformer.
Cheers 0mie!