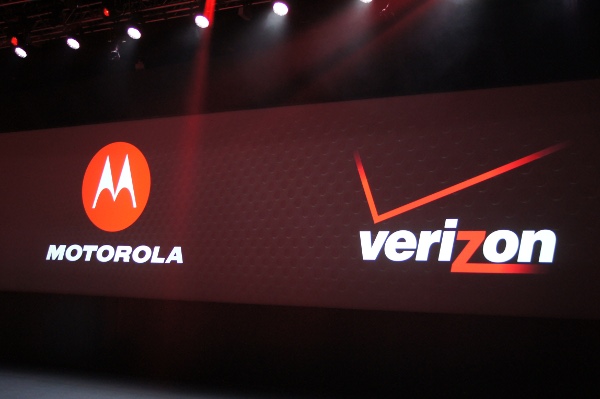 Motorola and Verizon are about the drop the newest DROID family member in just a few minutes and we are in the building to capture it all. The DROID RAZR is expected to be ultra slim, fast as hell with a dual-core processor and 4G LTE, and give us a first look at the advancements that Moto was working on while they tossed out the Bionic.
The show should start at 9AM Pacific…  
8:42 – Random pre-event thoughs:  Moto and Verizon paired together with their love for red and black just seems like a great match, doesn't it? Wonder if our semi-prediction of NFC will come true? Wonder if they will announce an ICS update already? Oh, and I have my Bionic so that we can do a screen compare when this whole shindig is all over with.
8:52 – Commenter just tossed out this link that could be to a live feed if you are interested in watching.
8:54 – Is the ultimate question for this event, "Is the bootloader unlockable?"
8:57 – Eric Schmidt in the building? No way we could get ICS…could we? (via: Engadget)
9:00 – "Silence electronics…" – should be going any minute now.
9:02 – Sanja Jha on stage talking about how important smartphones are these days. We look at them last before we go to bed and again first thing in the morning. He's right…we're addicts.
9:04 – Moto Active announced. Looks like that watch we saw a month or so ago.
9:06 – MotoActv is the official name. It's your ultimate fitness buddy and sort of like an iPod Nano. Heart rate monitor, GPS for tracking, runs Android. It's like Nike+ on 'roids.
9:10 – Dean Karnazes a fitness machine is on stage to talk about how he uses MotoActv I'm assuming. Dude runs way too much…or should I rephrase that as I could never run anywhere near as much as he does or I would die.
 9:13 – Bob Harper from Biggest Loser is out to talk about MotoActv. He calls it a "game changer." Loves the idea that it tracks calories, counts steps, and motivates people that aren't necessarily fitness gurus.
 9:16 – Available nationwide November 6. 8GB and 16GB models starting at $249. Best Buy. REI.
9:18 – And here comes the RAZR. He's teasing it as them trying to produce the greatest smartphone on the planet. Looks beautiful. Has a massive processor. But it also has to have new smart tech in it to make your life simpler.
9:20 – It's the world's thinnest smartphone. 4.3″ Super AMOLED Advanced qHD display. Advanced? Ooh, first device to download full HD videos from Netflix. Dual-core 1.2GHz processor, 1GB RAM, splash guard for protection, Gorilla Glass, weighs very little, 1780mAh battery.
9:22 – Best battery of all 4G LTE devices. 1800mAh…he said "built in" though. Wondering if that means it's non-removable.
9:23 – New advanced webtop app that will run on the Lapdock 100.
9:24 – Included Smart Actions which are a bunch of location-based smart features. Should also help save battery by turning off GPS and things like that.
9:25 – MotoCast! Used to be called Zumocast. Allows you to sync and access your files from your PC to your phone whenever and wherever. Handy for business folk. And now he's showing you how to stream 50 Cent from your computer to your RAZR. Silly. And then another demo of him accessing a business plan.
 9:31 – Now showing that you can take a video or pictures and have them instantly load them back to your home PC. That's actually all sorts of winning. Sharing between multiple devices is a pretty big deal that as a writer, I would most certainly take advantage of.
9:33 – Really big push by Moto these days to take over the enterprise space. More than any other Android device manufacturer, they produce business-friendly apps and services. Smart move. Still wondering why no one else has jumped in the game.
9:35 – Accessories. Lapdock 500? Did I miss that announcement?
9:36 – 4G LTE confirmed. How'd they do it in such a thin device? Miracle.
9:40 – Pre-order start October 27. Available online and in stores in November. Price is $299 on contract.
9:41 – Press release is out. Android 2.3.5. No ICS, folks.
9:42 – Oh, you can sync the RAZR with the MotoActv. That's cool. Shows call on your Moto watch or on your phone. If you had a wireless headset, could have just take in there too. Got to give it up to Moto, they certainly like to innovate in this smartphone game.
 9:43 – Available globally as well, but without the DROID name of course.
9:44 – And that's it. Hands-on time. No NFC.
Ended.