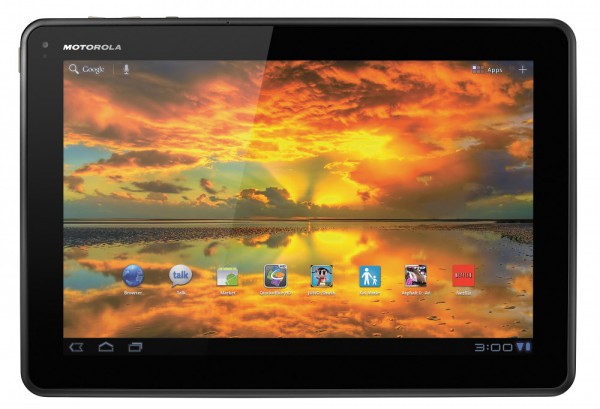 Motorola has introduced the newest addition to their XOOM lineup called the "Family Edition." It is essentially the same 16GB, dual-core processor, XOOM WiFi that many of you already have, but it comes loaded with a $40 bundle of kid-friendly apps and security features (meaning you can lock your kids out of certain things). You can pick up this tablet for just $379 at Best Buy only for the time being on October 16 (Sunday).
We had heard over the weekend that the price reduction was possible with a change in materials from the original XOOM to this one. I'm not sure I would use the word "cheap", but "plastic" most certainly. Still, $379 is a solid price point for the original Honeycomb tablet.
All of the kid-friendly details are below.  
Motorola Mobility and Best Buy Announce Motorola XOOM™ Family Edition – For Kids of All Ages

Special edition tablet exclusively for Best Buy customers is built to last and loaded with fun to bring the family together again

Oct. 14, 2011

LIBERTYVILLE, Ill. – Oct. 14, 2011 – Grab the popcorn, hit the lights and cuddle up on the couch with the new Motorola XOOM™ Family Edition, the HD tablet built for your entire family. Available exclusively through Best Buy starting October 16, the Android™ 3.1-powered Motorola XOOM Family Edition will entertain everyone in the house with TV shows, thousands of movies, and fun, educational games for kids of all ages. And with the award-winning Zoodles™ application, parents can rest easy knowing their kids are safe from inappropriate content. It's an affordable way to bring everyone together into the twenty-first century.

"Nowadays, everyone from mom, dad to the youngest child use the same tablet device. We set out to design a device that's kid and family-friendly yet versatile enough to handle your business needs," said Jim Hamilton, corporate vice president, global retail & distribution, Motorola Mobility. "The Motorola XOOM Family Edition offers a world of games, shows and video tools and because it's from Motorola, you know it's durable and will last for years to come."

"Tablets continue to generate excitement and we are thrilled to be able to offer the Motorola XOOM Family Edition to Best Buy customers," said Scott Wallace, senior director of tablet merchandising at Best Buy. "We think these devices are great for kids and families, and offer something for everyone. At Best Buy, we've long stood for choice and are delighted that the new XOOM Family Edition will be part of our selection."

Motorola XOOM Family Edition comes pre-loaded with almost $40 worth of applications and also features the award-winning Kid Zone™ by Zoodles™ that locks the home button and allows your kids to only access the content you deem acceptable, like educational games and movies. It also sports MotoPack by Motorola, which makes it simple to find and download apps that help you do more—and have more fun—with your tablet. MotoPack by Motorola showcases a selection of high-quality, popular apps that have all been fully tested on Motorola tablets to ensure an exceptional experience. Simply select the apps you want and download them directly from Android Market™. New apps and special promotions will be featured in the MotoPack by Motorola on an ongoing basis, so be sure to check back regularly.

And after the kids fall asleep, Motorola XOOM Family Edition lets you get back to work with email access, document editing capabilities with Quickoffice® Pro HD, and Web surfing that looks just like a PC, with tabbed browsing and Adobe® Flash® Player. Then access more than 250,000 other apps, as well as new cloud services from Google Mobile™ Services, Amazon and more.

Featuring a 10.1-inch widescreen HD display and battery life that lasts through a day of road tripping or a marathon game night, everyone will get a kick out of the entertainment possibilities with the Motorola XOOM Family Edition. Watch videos on YouTube and access millions of books while you hunt down the perfect bedtime story through Android Market™. With 16GB of on-board storage, everyone in the family will have space to store their favorite songs, photos and movies – even Grandma.

With a 5-megapixel rear camera and front-facing webcam, the entire family can video chat with aunts and uncles across the country. Remember the ancient days of camcorders and VHS tapes? Well those days are long-gone when you use Motorola XOOM Family Edition to record family videos and share them in a snap. Forget uploading to a PC—play your videos back on the tablet, view them on your flat-screen TV with HDMI® or post your masterpieces straight to YouTube™, Picasa™, Facebook® and more.

Want the details? Here's a list of the facts:

Runs on Android 3.1, built specifically for tablets
1GHz dual-core processor for lightning-fast responsiveness
10.1" HS IPS HD screen display with capacitive multi-touch
5MP back camera with flash, with 720p video webcam
Preloaded with almost $40 worth of applications, plus Zoodles™, the award-winning Kid Mode application
Preloaded with MotoPack by Motorola XOOM (App Downloader by Motorola)
·Preloaded with Quickoffice™ Pro HD for seamless productivity at work
Preloaded with MotoPrint – the application that allows you to print straight from the Web browser
Preloaded with fun games like Asphalt 6 from Gameloft and SIM City Deluxe
16GB built-in memory
Battery lasts up to 10 hours for video playback and Web browsing
Access to more than 250,000 apps in Android Market™
Availability and Pricing

Motorola XOOM Family Edition will be available exclusively at all Best Buy stores nationwide and online at BestBuy.com for a limited time value price of $379 starting Oct. 16.

Best Buy is advancing the growth of the tablet and e-reader category by combining an expansive selection with a shopping experience that allows customers to easily try and compare devices. The retailer is committed to delivering superior value and convenience by presenting a full line of accessories with each device, along with exclusive advantages such as tablet selection and connections support from specially trained Best Buy Blue Shirts, financing options, Reward Zone points, and tablet trade-in and Buy Back programs. For more information about these programs and tablets at Best Buy, visit www.bestbuy.com or www.bestbuy.com/tablets.

About Motorola Mobility
Motorola Mobility, Inc. (NYSE:MMI) fuses innovative technology with human insights to create experiences that simplify, connect and enrich people's lives. Our portfolio includes converged mobile devices such as smartphones and tablets; wireless accessories; end-to-end video and data delivery; and management solutions, including set-tops and data-access devices. For more information, visit motorola.com/mobility.

About Best Buy

Best Buy Co., Inc. (NYSE: BBY) is a leading multi-channel global retailer and developer of technology products and services. Every day our employees – 180,000 strong – are committed to helping deliver the technology solutions that enable easy access to people, knowledge, ideas and fun. We are keenly aware of our role and impact on the world, and we are committed to developing and implementing business strategies that bring sustainable technology solutions to our consumers and communities. For information about Best Buy, visit www.bby.com and to shop at Best Buy, visit www.bestbuy.com.