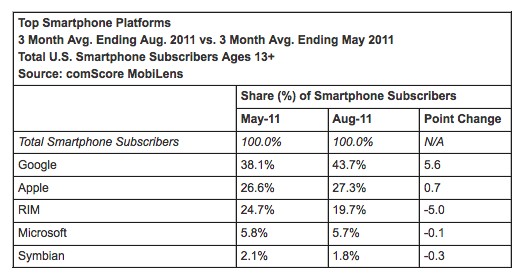 Yesterday the newest ComScore numbers were released with Android continuing to dominate the smartphone market. The green machine has a commanding 43.7 percent of the market with Apple's iOS coming in second with 27.3 percent. Blackberry maker RIM continues to tumble, ensuring more hard times are ahead for the Waterloo company as they drop to 19.7 percent of market share.
From May to August of this year Android grew 5.7 percent, the largest growth of any mobile operating system. Apple's iOS was up 0.7 with Blackberry taking a massive loss of negative 5.0 percent.
Hip-hip-hooray for the power of choice and open-source.  
 comScore Reports August 2011 U.S. Mobile Subscriber Market Share

comScore Releases Report "iPhone 5: Implications for the Operator Industry"

RESTON, VA, October 5, 2011 – comScore, Inc. (NASDAQ: SCOR), a leader in measuring the digital world, today released data from the comScore MobiLens service, reporting key trends in the U.S. mobile phone industry during the three month average period ending August 2011. The study surveyed more than 30,000 U.S. mobile subscribers and found Samsung to be the top handset manufacturer overall with 25.3 percent market share. Google Android continued to gain ground in the smartphone market reaching 43.7 percent market share.

In light of Apple's new iPhone announcement, comScore has also released a report highlighting the implications of this new device to the mobile operator marketplace. A complimentary copy of the report can be downloaded at the following link: http://www.comscore.com/Press_Events/Presentations_Whitepapers/2011/iPhone_5_Implications_for_the_Operator_Industry

OEM Market Share

For the three-month average period ending in August, 234 million Americans age 13 and older used mobile devices. Device manufacturer Samsung ranked as the top OEM with 25.3 percent of U.S. mobile subscribers (up 0.5 percentage points from the prior three-month period), followed by LG with 21.0 percent share and Motorola with 14.0 percent share. Apple strengthened its position at #4 with 9.8 percent share of mobile subscribers (up 1.1 percentage points), while RIM rounded out the top five with 7.1 percent share.

Smartphone Platform Market Share

84.5 million people in the U.S. owned smartphones during the three months ending in August, up 10 percent from the preceding three month period. Google Android ranked as the top smartphone platform with 43.7 percent market share, up 5.6 percentage points from the prior three-month period. Apple strengthened its #2 position, growing 0.7 percentage points to 27.3 percent of the smartphone market. RIM ranked third with 19.7 percent share, followed by Microsoft (5.7 percent) and Symbian (1.8 percent).

Mobile Content Usage

In August, 70 percent of U.S. mobile subscribers used text messaging on their mobile device, up 1.0 percentage points. Browsers were used by 42.1 percent of subscribers (up 2.3 percentage points), while downloaded applications were used by 41.6 percent (up 3.0 percentage points). Accessing of social networking sites or blogs increased 2.3 percentage points to 30.9 percent of mobile subscribers. Game-playing was done by 28.5 percent of the mobile audience (up 1.6 percentage points), while 20.7 percent listened to music on their phones (up 2.1 percentage points).