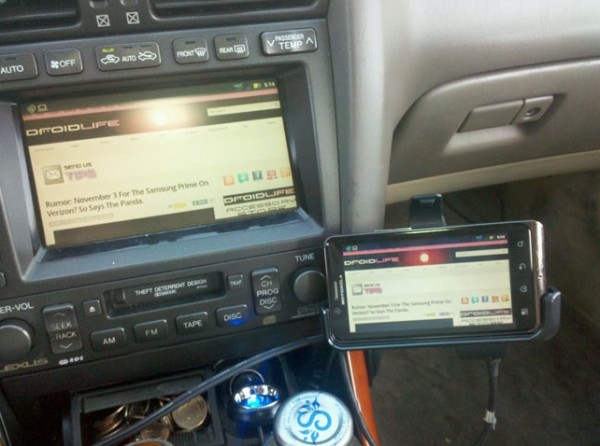 A crafty DL reader with a new DROID Bionic and car dock decided he wanted webtop and Netflix from anywhere.  So what did he do?  Hacked the s.o.b. to work through his car's entertainment system.  He now has webtop and HDMI mirroring throughout his entire car.  Sure it took some epoxy, an HDMI cable and a drill, but I'd say it was well worth the effort.
Here are his brief instructions:
– First I took apart the car dock and grinded/drilled an opening so I could fit the micro HDMI cable.
– Then I docked the phone. Then aligned and plugged in the micro HDMI into the phone.
– I then epoxied the HDMI onto the case and let it dry.
– The stock power port was adjusted to match with the HDMI port and epoxied that as well.
– I put everything back together.
Check out additional pics of Netflix and webtop after the jump.  
Netflix:
Webtop:
Via:  Droid Forums
Cheers Keith!