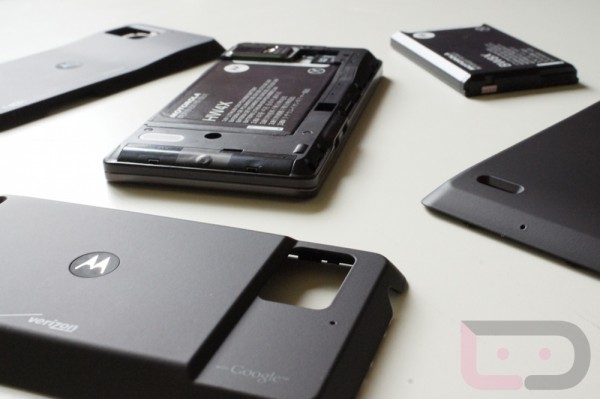 We got a hold of the extended battery for the DROID Bionic today along with the inductive (wireless) battery cover.  Both are available now through Verizon and Motorola's stores – extended on sale for 50% off – and could be serious options for those of you looking for either a simpler charging solution or a longer battery life.  The extended battery weighs in at 2760mAh as compared to the standard battery which is just 1735mAh.  The inductive (wireless) cover on the other hand, simply slips over top of the standard battery so it won't be giving you additional juice, but will instead just make it easier to charge your device.
Both the extended battery and the wireless cover will be getting full tests by us over the next few days, so for now, we'll just give you this quick look at how they change the look and feel of the device when used. The extended is going to add some weight and thickness, while the inductive cover really just makes the device flat on the back while removing the hump.
Initial tests of the standard battery are giving me anywhere from 6-10 hours on 2 bars of 4G LTE with normal every day use. Hoping that this extended can last another 4.
*Note on the wireless cover:  It appears to practically lock the device from use while it's charging.  I'm sure this is a bug that needs to be addressed, but while on the charger, it is almost impossible to unlock the device and swipe between screens or apps.  Immediate fix is needed if this is going to be an option. Most of us continue to use our phones even while they are charging.
Pics and video after the jump.  
The device with the standard battery and cover:
The device with the extended battery and cover:
The device with the wireless charging cover:
Standard battery vs. Extended battery:
Quick look and hands-on:
Let us know if you have any questions or need us to test anything out with either of these accessories.