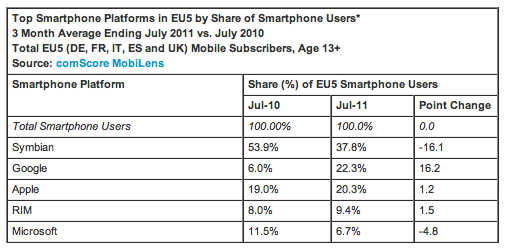 In the spreadsheet above, research group comScore has taken a poll of many of the larger European nations to find that Android now accounts for almost a quarter of all smart phones across the pond. The number that everyone wants to know is "Is it more than iOS?", the answer would indeed be yes, but the bigger story here is Android's 17% growth in the market share over a year's time.
According to comScore in 2010, Android only had a 6% share of the smartphone market. Symbian was reigning supreme with 54% with Apple, Microsoft and RIM battling it out for second. But, a year later and Android did what Android always does; took over by saturating the market. Now, Android is in second place and has seemed to pick up exactly all of the points that Symbian has lost in the past year.
But all of this could change in the upcoming months. Apple is planning on releasing i*hone 5 at some point, Blackberry has been in talks with releasing their QNX phones as well as Microsoft's huge Mango update finally getting to handsets in the near future. Let's not forgot that Android also has some major players.. The Galaxy S II phones are poised to make another huge splash here in a bit and HTC looks to be coming in strong with some good phones as well. What do you think? Will Android keep the streak going and take the number one spot in Europe?
Source: TechCrunch