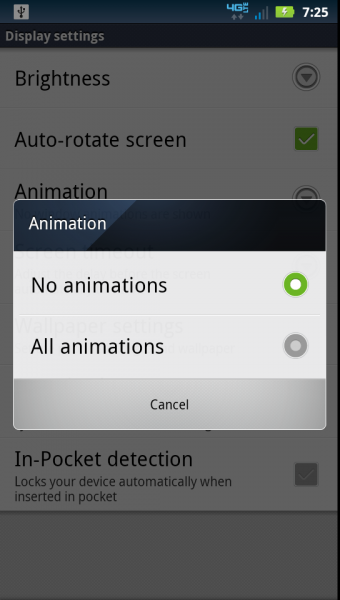 Just wanted to throw out one more tip this morning for new DROID Bionic owners to consider.  With the new version of Blur that Moto has decided to give us, comes a pretty overwhelming and at times slow, 3D animation between almost every screen transition.  When you jump from app to app or home to app or home to app drawer, you'll notice this transition right away.  While it make look semi-pretty at first, you may realize that you can accomplish things much faster without it.  Thankfully Motorola built in a "No animations" toggle so you can rid your world of flashy fluff.
To turn off animations, start from your home screen and do the following:
Menu>Settings>Display>Animation
Once you tap on Animation, tap on "No animations" to make your phone even faster.
*Note – The only bad thing about doing this, is the fact that it also kills the CRT screen-off animation.  Not sure why Moto did not leave that as a standard option since it was built-in to Android 2.3, but we find that attempting to figure out why they have made certain decisions over the last few years has lead to an uncountable number of headaches.
*Note 2 – Since the Bionic haters took my "slow" comment to meaning the device sucks, let me clarify.  The phone isn't slowed by the transitions, the transitions themselves are just annoyingly slow.  It's just a part of Blur and has nothing to do with phone performance.
Anything else you can think of?