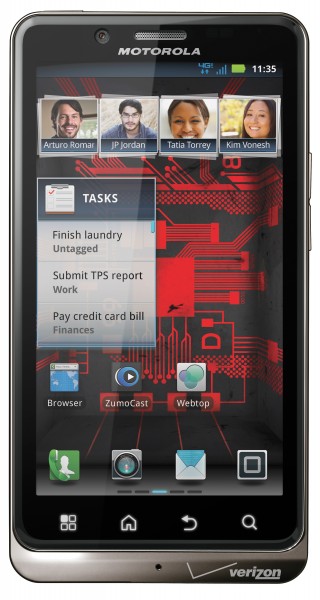 We first saw a phone that went by the name of DROID Bionic almost 9 months ago to the day back at CES in Las Vegas and were told then that it was "the end of waiting."  Since then, we have gone through a series of questions on why it wasn't initially equal in power to its cousin over at AT&T followed by a decision to delay the phone we saw in favor of a new model.  This new model would be known internally as the Targa, and was created to try and compete with the upcoming super phones from other manufacturers – something its predecessor certainly could not do.  So after months of delays, speculation, and leaks, we are finally here.  Verizon has unleashed the beast (well, tomorrow they will) to the world for $299 on 2-year contract or somewhere around $589 without one.
Can it "rule all machines"?  Can its upgraded parts compete with the super phones that are expected to launch in the very near future?  Is it overhyped or are the haters clueless?  I guess we'll soon find out when the masses flock to pick it up in 1 short day.
There is not a pre-order as Verizon is likely hoping to build up buzz by having customers head into stores for a change.  We still are not sure if there will be lines, but locations selling the phone should be busier than normal as the marketing machine will be revving its engines.
There are zero surprises, which isn't necessarily a bad thing – we have just seen this thing leak more times than almost any phone known to man.  It's a 1GHz dual-core OMAP processor, 4.3″ qHD display, 1GB RAM, Android 2.3.4, front and rear cameras, and of course, 4G LTE.  We have heard nothing but positive things from the lucky few that have had their hands on it since devices arrived in stores last week.  Our own testing will take place soon enough.
So, are you ready for it or just glad that the "end of waiting" is finally over with?  
VERIZON WIRELESS AND MOTOROLA RAISE THE BAR WITH DROID BIONIC™ BY MOTOROLA

Unsurpassed Power, Speed and Entertainment On the Fastest, Most Advanced 4G LTE Network in America

BASKING RIDGE, N.J., and LIBERTYVILLE, Ill.  – Verizon Wireless and Motorola Mobility, Inc. (NYSE: MMI), today announced DROID BIONIC™ by Motorola will be exclusively available beginning Sept. 8.

DROID BIONIC is the first Verizon Wireless smartphone to combine 4G LTE with the power of dual-core 1 GHz processors, 1 GB of RAM and a stunning 4.3-inch qHD display – all in a sleek form factor that makes it the thinnest 4G LTE smartphone from Verizon Wireless.  Customers can expect to fly across the Web on the Verizon Wireless 4G LTE network with download speeds of 5 to 12 Mbps and upload speeds of 2 to 5 Mbps in 4G LTE mobile broadband coverage areas.

DROID BIONIC introduces a host of groundbreaking applications and accessories that turn the device into a multimedia hub, a ruler of remote access and a purveyor of virtuality.   DROID BIONIC introduces ZumoCast™ by Motorola, an application that lets customers bring their digital world of videos, music, pictures and documents stored on their computers to their handset via remote access.  With its revolutionary Webtop application, DROID BIONIC can beam a full-featured Firefox® Web browser 4.0, email or documents to a TV or monitor, like the separately purchased Lapdock™ with a 11.6" screen, keyboard and integrated trackpad.

Accessories such as the HD Station let DROID BIONIC users turn the phone into an entertainment center or home office.  Customers can view pictures, video, and content from the DROID BIONIC on any HDTV or monitor by connecting a separately sold HDMI cable.  They can also take a conference call while editing documents and surfing the Web.  And, of course, the DROID BIONIC lets customers share their 4G LTE signal with up to five Wi-Fi-enabled devices when they activate the Verizon Wireless Mobile Hotspot.  The device of the future today, the DROID BIONIC also includes the following features:

·         Powered by Android™ 2.3.4 Gingerbread
·         Dual-core 1 GHz processor and 1 GB of RAM
·         4.3-inch qHD screen using scratch-resistant Corning® Gorilla® Glass with dual-layer anti-reflective coating
·         8-megapixel autofocus camera with flash and 1080p HD video capture
·         Front-facing camera for video chat over 4G LTE, 3G or Wi-Fi
·         MOTOPRINT app to print via Wi-Fi-enabled printers
·         Mirror Mode with HDMI out (HDMI cable required) supporting 1080p HD video playback
·         Multi-window options for multitasking with ease when using the Webtop application
·         Business Ready with advanced security policies; resizable and scrollable email, calendar and task widgets; device and SD card encryption; and Citrix® GotoMeeting® and Citrix Receiver™ for Android
·         Adobe® Flash® pre-loaded
·         HTML 5 capable
·         32 GB memory: 16 GB on board and 16 GB microSD™ card pre-installed (actual formatted capacity is less)
·         Support for up to 32 GB microSD cards
·         Supports wireless charger

Pricing and availability:

·         DROID BIONIC by Motorola will be available in Verizon Wireless Communication Stores and online at www.verizonwireless.com on Sept. 8 for $299.99 with a new two-year customer agreement.
·         Customers will need to subscribe to a Verizon Wireless Nationwide Talk plan beginning at $39.99 for 450 minutes per month and a smartphone data package starting at $30 monthly access for 2 GB of data.
·         Verizon Wireless Mobile Hotspot data plans are available beginning at $30 for 2 GB.
·         For a limited time, customers who purchase a Lapdock with the DROID BIONIC can receive a $100 mail-in rebate when subscribing to a $50, 5 GB data plan or higher.

Available accessories:

·         The Lapdock will be available for $299.97, the HD Station will be available for $99.99 and the Adapter for Webtop Application will be available for $29.99.
·         Vehicle Navigation Dock delivers easy access to maps, favorite contacts, hands-free calling, music, navigation and more and supports streaming of audio and music via the 3.5 mm audio jack, if available, to play through vehicle speakers. The Vehicle Navigation Dock will be available for $39.99.
·         The Battery Dock with standard battery is a pocket-sized accessory with an extra battery included to charge both DROID BIONIC and an extra battery at the same speed as a wall charger. The Battery Dock will be available for $49.99.

For more information on Verizon Wireless products and services, visit a Verizon Wireless Communications Store, call 1-800-2 JOIN IN or go to www.verizonwireless.com.  For more information on accessories, visit www.verizonwireless.com/accessories.

About Verizon Wireless

Verizon Wireless operates the nation's fastest, most advanced 4G network and largest, most reliable 3G network. The company serves 106.3 million total wireless connections, including 89.7 million retail customers. Headquartered in Basking Ridge, N.J., with 83,000 employees nationwide, Verizon Wireless is a joint venture of Verizon Communications (NYSE, NASDAQ: VZ) and Vodafone (LSE, NASDAQ: VOD). For more information, visit www.verizonwireless.com. To preview and request broadcast-quality video footage and high-resolution stills of Verizon Wireless operations, log on to the Verizon Wireless Multimedia Library at www.verizonwireless.com/multimedia.

About Motorola Mobility

Motorola Mobility, Inc. (NYSE:MMI) fuses innovative technology with human insights to create experiences that simplify, connect and enrich people's lives. Our portfolio includes converged mobile devices such as smartphones and tablets; wireless accessories; end-to-end video and data delivery; and management solutions, including set-tops and data-access devices. For more information, visit motorola.com/mobility.

MOTOROLA and the Stylized M Logo are registered trademarks of Motorola Trademark Holdings, LLC.  Android is a trademark of Google, Inc.  Adobe and Adobe Flash are either registered trademarks or trademarks of Adobe Systems Incorporated in the United States and/or other countries. Citrix is a trademark of Citrix Systems, Inc. and/or one or more of its subsidiaries, and may be registered in the U.S. Patent and Trademark Office and in other countries.  All other trademarks are the property of their respective owners.   © 2011 Motorola Mobility, Inc. All rights reserved.