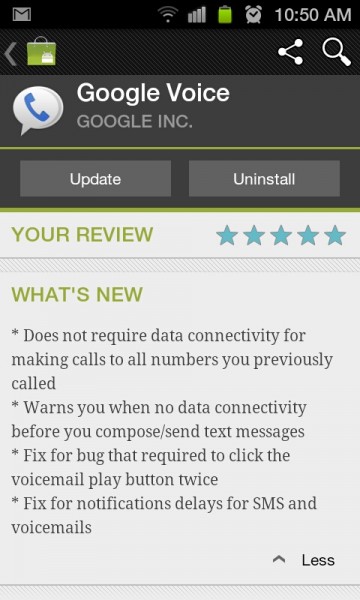 So Google Voice received a pretty solid bug fixing update (UI enhancements too) this morning that improves notifications, eliminates that obnoxious need to press play twice in voicemails, and now warns you when you have no data connectivity.  It also mentions something about making calls without a data connection, but as far as we know, GV doesn't make calls over data or does it?  We are officially confused.  Text messages are sent through data which is why they are not counted against your text plan, but phone calls are handled differently, aren't they?  Hopefully this gets explained in a blog post some time today.
Reader Christiaan offers a solid explanation of this "no data" calling:
I'm pretty sure what they mean is that if you've called a phone number through Google Voice before, then your phone will remember what GV number to call to connect to.  The way it's worked in the past is that every time you call a number through GV, your phone sends a data request to Google telling them the number you want to call, and Google sends back a number for your phone to actually call (a patch number).  Once your phone calls that patch number, Google's servers then connect your through them to the actual number you want to call.

This new update will remember what the patch number is for each real number, so you won't have to have data for previously called numbers.
Update:  The folks over at Android Police discovered that this version has basically been built for Honeycomb.  It may not say that it has full support in the market listing, nor can you load it directly from the market, but once you side load it onto a tablet you will see what we mean.  Tablet UI and a sweet new widget included.  
(Click images for larger versions)
Market Link | APK for sideloading to tablets
Cheers 0mie and Josh!