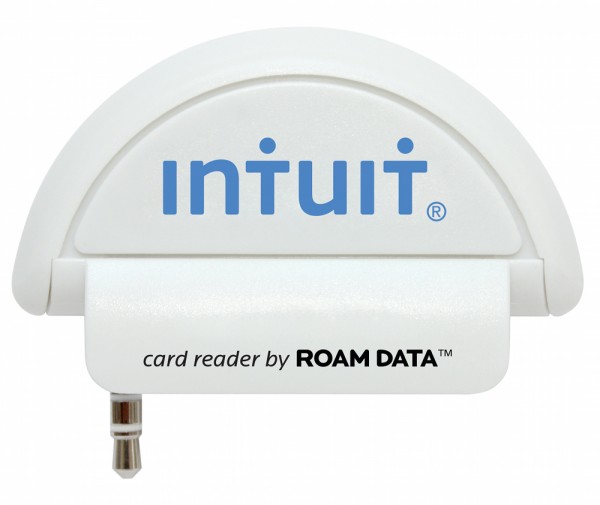 This week, Verizon announced a new partnership with Intuit that will give small business owners and sole proprietors the opportunity to accept credit card payments from anywhere using their smartphone.  Similar to the service offered by Square, there is a swiper (pictured above) that plugs into your head phone jack, an app to take care of the transaction, and your smartphone to send the data out for processing.  Your customers can specify a tip, sign for their goods on your smartphone screen, and even email them receipts.  If you frequent festivals, you have probably dealt with a similar service.
There are two different plans for users to choose from; the most popular more than likely being the free one.  If you are interested, you can find out more information at Intuit's site, which includes an "exclusive" offer.  
Video demo:
Pricing plans: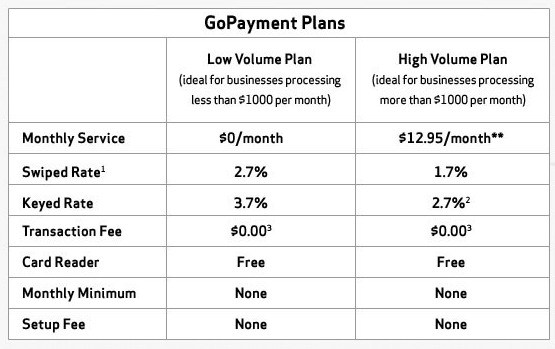 Press release:
YOUR SMARTPHONE OR TABLET NOW TAKES PLASTIC: VERIZON WIRELESS AND INTUIT TEAM UP TO OFFER GOPAYMENT; MOBILE CREDIT CARD PROCESSING FOR SMALL BUSINESSES

Intuit GoPayment App and Credit Card Reader Now Available at Verizon Wireless Stores

BASKING RIDGE, N.J. & MOUNTAIN VIEW, Calif. – Verizon Wireless and Intuit Inc. (Nasdaq: INTU) today announced a strategic alliance to give all small businesses – from the sole proprietor to a medium-sized business – the ability to process credit card payments on smartphones and tablets. The companies are now offering Intuit's GoPayment app and pocket-sized credit card reader in Verizon Wireless' 2,300 retail stores and business-to-business sales channels.

GoPayment makes it easier and more affordable for small businesses to process credit cards and for anyone who sells products or services to accept credit card payments wirelessly. The card reader simply plugs into the audio jack of a supported smartphone or tablet. Credit and debit cards can be swiped through the card reader or entered into the app manually. The transaction is processed immediately and funds are automatically deposited into a user's bank account within a few business days. GoPayment supports devices on Android™, BlackBerry® and iOS platforms for most popular 3G and 4G LTE smartphones and tablets.

"Intuit's GoPayment on America's most reliable network is a mobile transaction game changer, and brings another dimension of must-have technology to the small business community," said Mike Schaefer, executive director of the Business Solutions Group for Verizon Wireless. "Payments and transactions are often the biggest hurdle businesses face. Our value proposition is to streamline, simplify and enable business owners to get paid with minimal delay. This collaboration with Intuit is an important part of our strategy to bring the most innovative online and mobile tools to our customers."

"Rather than lose out on potential business, anyone who sells a product or service can now easily and affordably give their customers the option of paying with plastic," said Chris Hylen, general manager of Intuit's Payment Solutions division. "GoPayment is meeting a huge need and is one of the fastest growing mobile payment solutions in the market. With Verizon Wireless, we'll help even more people discover that they too can process credit card payments on the phones or tablets they already own."

To save time when processing payments, GoPayment offers the ability to create and sell from a list of frequently sold items. Depending on the types of goods and services sold, users can choose to apply sales tax, add tips and send customized receipts via text message and email with a map of where the transaction took place. To protect data, sensitive credit card information is never stored on the phone. The data is also encrypted – once via the card reader and a second time via the GoPayment app.

For the more than four million small businesses that use QuickBooks®, GoPayment can also sync transactions with recent versions of QuickBooks – PC, Mac and soon QuickBooks Online – to save time by reducing manual data entry. GoPayment also supports up to 50 users on one account, which is ideal for businesses with multiple employees who work in the field.

Pricing

Verizon Wireless customers can get the GoPayment credit card reader free with activation of a GoPayment account and a mail-in rebate for the $29.97 purchase price. The GoPayment mobile payment app is free and the basic service has no monthly, transaction or cancellation fees, and offers a competitive 2.7 percent discount rate for swiped transactions.

A paid version of GoPayment is also available for $12.95 a month and provides a low discount rate of 1.7 percent for swiped transactions. Intuit is offering Verizon Wireless customers two months of free service when they select this monthly paid plan.

Customers who purchase a smartphone for their GoPayment use will need to subscribe to a Verizon Wireless Nationwide Talk plan beginning at $39.99 for monthly access. Tablet and smartphone users require a data package starting at $30 monthly access for 2 GB of data.

For additional information, please visit www.verizonwireless.com/gopayment or gopayment.com/verizon.

About Intuit Inc.
Intuit Inc. is a leading provider of business and financial management solutions for small and mid-sized businesses; financial institutions, including banks and credit unions; consumers and accounting professionals. Its flagship products and services, including QuickBooks®, Quicken® and TurboTax®, simplify small business management, payment and payroll processing, personal finance, and tax preparation and filing. ProSeries® and Lacerte® are Intuit's leading tax preparation offerings for professional accountants. Intuit Financial Services helps banks and credit unions grow by providing on-demand solutions and services that make it easier for consumers and businesses to manage their money.

Founded in 1983, Intuit had annual revenue of $3.9 billion in its fiscal year 2011. The company has approximately 8,000 employees with major offices in the United States, Canada, the United Kingdom, India and other locations. More information can be found at www.intuit.com.

About Intuit Payment Solutions
Intuit is one of the largest small business payments processors in the U.S. It processes annually more than $17 billion in transactions for approximately 300,000 small businesses. Over the last 10 years, Intuit has helped small businesses get paid and improve cash flow with a complete family of end-to-end electronic payment solutions. This includes services to process credit cards, e-checks and online payments via a variety of channels including mobile devices, Web and retail stores as well as integrated solutions such as QuickBooks.

About Verizon Wireless
Verizon Wireless operates the nation's fastest, most advanced 4G network and largest, most reliable 3G network. The company serves 106.3 million total wireless connections, including 89.7 million retail customers. Headquartered in Basking Ridge, N.J., with 83,000 employees nationwide, Verizon Wireless is a joint venture of Verizon Communications (NYSE, NASDAQ: VZ) and Vodafone (LSE, NASDAQ: VOD). For more information, visit www.verizonwireless.com. To preview and request broadcast-quality video footage and high-resolution stills of Verizon Wireless operations, log on to the Verizon Wireless Multimedia Library at www.verizonwireless.com/multimedia.