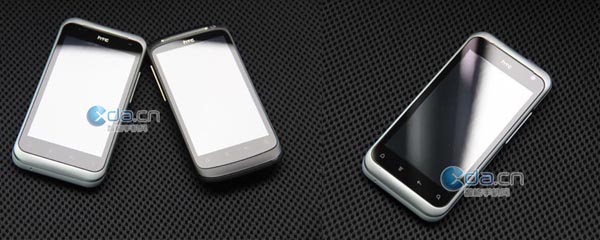 Pictured above, clear as day is the HTC Bliss, the phone that is reported to be all about the ladies. Situated on the left, the Bliss is next to the Desire S for a size comparison. From what we can tell it's looking to be a 3.4 or 3.7 inch screen with an 800 MHz processor packed into the phone. It'll run on Verizon's bands but also pack a 900 MHz GSM band as well, since Verizon loves to do global phones these days. According to the XDA.cn thread this phone will run Android 2.3 and Sense 3.5 and will have features that many other Sense phones do not have. Interesting.
But what makes this a phone for the ladies? It's hard to tell from the top down pictures, but the bottom lip of the Bliss has a olive green tint to it almost and there are also rumors of the phone will light up on the outside whenever there is a notification. At this point it remains to be seen how HTC promotes this phone, maybe we'll hear a little bit about it September 1?  
Via: XDA.cn, Phandroid
______________________
Some of our best videos.