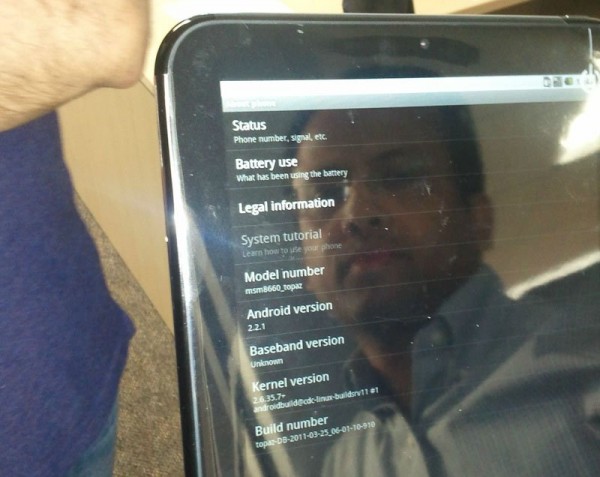 I'll just start this off by saying, "be skeptical" as this is one of the more confusing situations we have encountered in quite some time.  As many of you know, the TouchPad and all WebOS products were given the axe last week by HP which lead to a firesale over the weekend.  If you were anywhere near Twitter on Friday and Saturday, then you likely saw the thousands of retweets and SlickDeals threads leading to $99 and $149 TouchPad deals – most of which were sold out in minutes.
The price drop also led to some developments on the Android front.  First, a team was formed with one goal:  bring Android to the TouchPad.  Following their announcement, a bounty of $1,500 was offered up to the first person that was able to actually make that team's goal happen.  Fun, right?  Well, here is where it gets really tricky/confusing.  
The picture above and video below appeared yesterday on Reddit, from a user who apparently walked into a Best Buy to pick up a TouchPad and walked out with a device already running Android 2.2.  Now, droves of people have already claimed it to be completely fabricated and we tend to agree that the entire thing is incredibly odd and filmed in a way that makes us want to pimpslap all parties involved.  With that said though, there are some things we should point out.
First, the name "topaz" made its way into the build number.  Topaz just so happens to be the codename for the device.  Second, at bootup, you will see the QuIC logo which means Qualcomm Innovation Center, the same company who tossed a processor into the TouchPad.  And what should that mean to you?  Well, that there is a chance this device was used as a dev tool at Qualcomm's Innovation Center and then somehow, some way, snuck into a box and then into a store to be sold.  Sounds like a stretch, I know.
To add to the story, the Reddit user who submitted this has been very cooperative with devs who are looking to get a hold of this device ASAP.
We should know in the next few days if this is legit or not.
http://www.youtube.com/watch?v=DmpmlOpvoC0
Via:  Reddit, Notebook Italia, Android and Me
Cheers to everyone who sent this in!