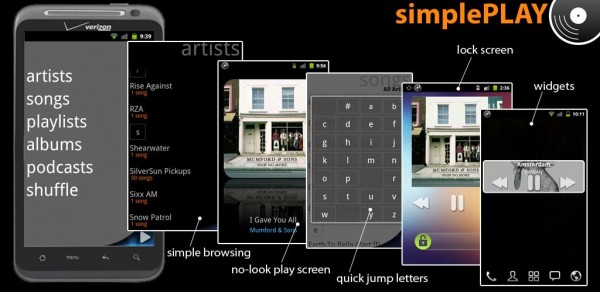 The developer of simplePLAY is tired of everyone putting themselves at risk while they are driving, and having to look down at their small screens to press skip, back, and pause. He has implemented a no look feature into his music app, and it actually works exactly how you would hope. Using gestures, you can swipe forward, back, or any other feature you might need. 
The interface is well polished, and is on par with any other music app on the Market. Plenty of widgets, including lockscreen controls, and even has theme support. Unfortunately, Google Music is not playing nicely yet with 3rd party apps, so no, there is no Google Music Beta support. If you would like to give the no look feature a go, then you can pick the app up on the Android Market for just 99 cents.
Market Link
What is the one feature you wish all these 3rd party app had? I know for myself, that I wish it had some Google Music support. Time to start emailing Google, everybody.