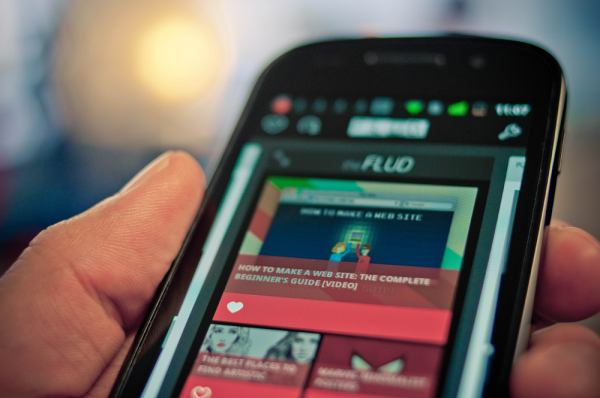 There is an excellent selection of news readers on the Android Market. FLUD is yet another awesome choice, proving that you can never have enough of a good thing. FLUD brings excellent integration with your Twitter, Google Reader account, and any RSS feed from the web. It has a beautiful UI, with an easy swipe through feed that is super easy to set up. 
Market Link
Features:

– Access your own carefully chosen feeds, at any given time, in a beautiful and usable news interface
– Search for RSS feeds of interest inside the application and add them with a single touch
– Connect to Google Reader
– Mark the article you "Love" and influence what other FLUD user will read on a minute-to-minute basis
– View all articles you "Loved" on your Bookmarks page
– Manage, reorder or remove feeds
– Organize feeds into categories
– Browse the web inside the app and play video seamlessly
– Share articles of interest with you friends on Facebook and Twitter
– E-mail articles to your friends from inside the application
Anyone thinking this could be better than Pulse, or even Taptu? Let us know what you think, and if you decide to stick with it, don't forget to subscribe to us on your news feed. To learn more about Flud, check out their website, here.