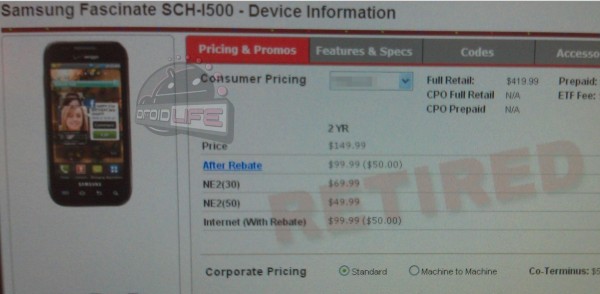 No, we didn't put the word "RETIRED" on that screenshot.  That's actually how Verizon is referring to the status of the Samsung Fascinate as of this week.  The device has been pulled from Big Red's online shop and will probably be just as tough to track down in store.  As far as we know though, the device will still receive Gingerbread, but after that, support will likely dwindle.  Not a bad run for a non-DROID branded device, except for the amount of time it took to see Froyo of course.
So if a device is on the way out, does that mean that something will replace it?  We would certainly hope so.  Right now there are rumors of a device from Samsung called the Stratosphere, which may or may not be the Galaxy S II.  We're pretty sure that it will be one of Verizon's next 4G LTE devices, but other than that, device specifics have not been revealed.  Or it could end up just being that Epic 4G-esque device with a slideout keyboard that we saw a couple of weeks ago.  Maybe a Fascinate II?  It is anyone's guess at this point.
Fascinate owners, sad day or just shoulder shrug-worthy?
Cheers Spaniard and Sam!