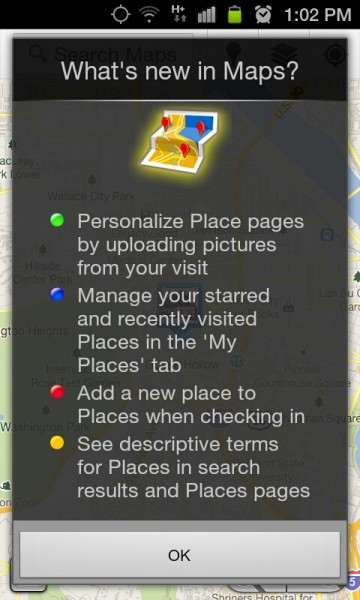 Another Google Maps update should be waiting for you in the market; this time taking you to version 5.8 that includes a whole bunch of Places additions.  Users now have the ability to attach photos to their favorite places and also add locations that may be missing.  Google is certainly doing their best to try and make this your social check-in service of choice.  I'd say they are doing a pretty nice job of it – now to try and convince all of our friends to ditch Foursquare for this.  See that happening any time soon?  
The full changelog:
Upload photos for a Place
My Places as a simple way to manage the Places you've starred and recently viewed
Descriptive terms for Places in search results
Add a new Place on-the-go when checking in
And maybe this is old, but it sure looks like Maps in general are showing a lot more detail than they have in the past.  Check out this map of Portland that shows building and housing layouts on streets and blocks in areas close to downtown.  Has it always been like that?  Feel free to tell me that I need to wake up and that it has been like that forever.
Via:  Google Mobile