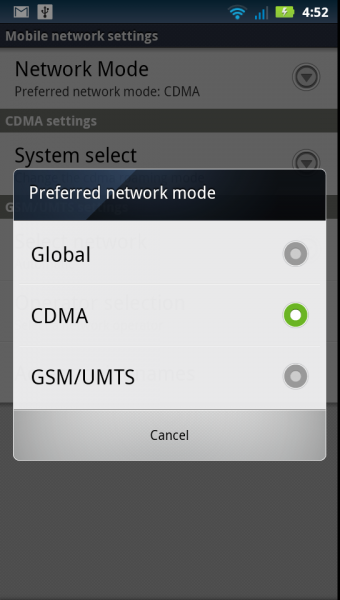 Not that you will need to find 150 different battery saving tweaks on the DROID3 like many had to do with the Thunderbolt, but this is one that is built right in and can be applied in less than 30 seconds.
Since the D3 is a global device, it has both GSM and CDMA radios inside that allow it to find a connection even if you leave the U.S.  One thing you may not have been aware of though, is the fact that Verizon has blocked the phone from accessing GSM networks here in the states.  So if you aren't headed over seas any time soon, why should your phone need to have that radio active?  If you leave your phone on its "Global" setting, there is a chance that it will constantly be trying to find both CDMA and GSM networks to access which could in turn cause your battery to not last as long.  With this simple tip, you can turn off the "Global" setting and tell it to strictly use CDMA networks.
To set your phone to CDMA-only, do the following:
Menu>Settings>Wireless & networks>Mobile networks>Network mode>CDMA
Any other battery saving tips that you have become aware of?  Have any of you tried this already and noticed an extended battery life?
Cheers Lonnie!