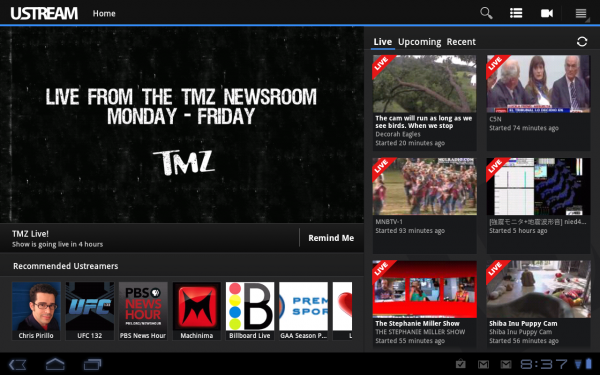 Who's ready to lifecast!?  Err…maybe not?  If you wanted to though, you could on your Honeycomb tablet now thanks to Ustream.  A shiny new update just popped into the market for the video hoarders in the building to gobble up.  The new tablet-optimized Ustream allows you to of all things, upload live video – as long as you have a decent connection, of course. (And I'm officially scared.) Time to put that front-facing 2MP XOOM camera to work!
To stop the cheese for a moment though, I will say that you've got to be at least a little excited to see another tablet-specific app hit the market.  I've heard from a variety of Android tablet owners over the last few months who are not satisfied and it usually comes down to the lack of quality apps for them to enjoy.  So while I'm clearly poking fun at Ustream, at least they are giving us the goods.   
Via: TechCrunch
______________________
Some of our best videos.