The folks over at PCMag have posted up the results of a cross-country road trip (21 cities) during which they tested all of the major mobile networks in the U.S. to determine which was the fastest.  They looked at both 3G and 4G networks from Verizon and Sprint, the fake 4G of AT&T, T-Mobile's steadily increasing 4G, and some off-the-wall carriers like MetroPCS and Cricket to cover all bases.  The results are not surprising at all – Verizon's new 4G LTE network easily came out on top with its incredibly fast, home replacement-esque data speeds.  
Here are a couple of the score sheets:
Northeast City Scores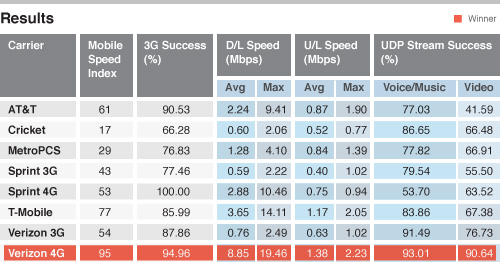 West City Scores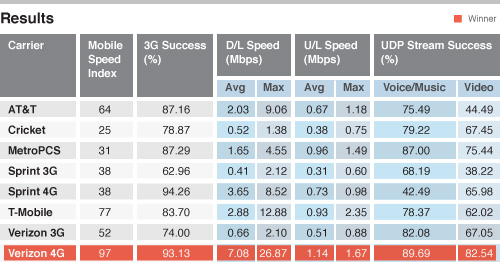 So what can we make of all this?  Well for starters, your next phone should probably have a 4G LTE radio in it because the coverage map is only going to grow exponentially over the next 2 years. In fact, Big Red plans to have their 4G network covering every ounce of Earth that their current 3G network does by 2013, so that means you'll want a phone that can run on it even if you aren't expecting to see service for another year or so.
Second, with tiered data coming on July 7 and the uncertainty that even current customers will continue to have unlimited amounts in say 2 years from now, you need to lock in soon.  And when we say lock in, we mean lock in to a 4G phone so that you can really take advantage of these kinds of speeds.
You can check out PCMag's full test results here.
To our 4G friends in the building, would you care to share your experiences with the non-crowd?