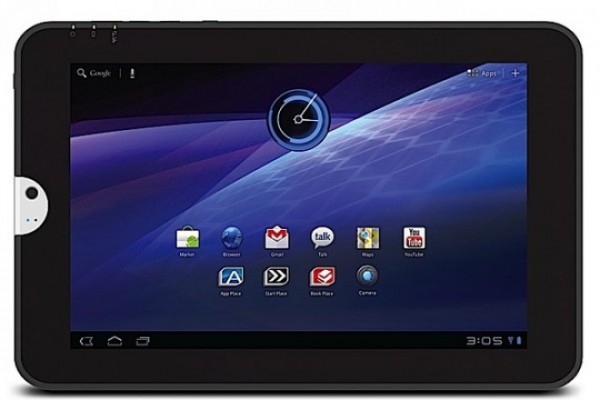 The Toshiba Thrive is one of the new Tegra 2 Honeycomb Android tablets that we really haven't talked much about, but wanted to at least point out the fact that you have a chance to win 1 right now.
Through Toshiba's site, they are offering up 10 Thrive tablets to people who simply find a secret code somewhere in the video that we've embedded below.  It's pretty simple, but it does sound like you need to let your friends know to watch the video over and over again, because as we understand it, the secret code won't appear until the video has been seen 10,000 times.  
Once it appears though, you'll want to head over to this landing page and enter it in.
So what is the Toshiba Thrive?  Let's just say that it should be considered one of the most decked out tablets we've ever seen with full USB, SD card slot and HDMI port, but it's heft (1.6lbs is the same weight as the XOOM), size and thickness (thicker than the XOOM) could make it painful to use for a long period of time.
Specs:
Android 3.1
1GHz NVIDIA Tegra 2 processor+
1GB DDR2 RAM
10.1″ (1280×800) display
Up to 32GB on-board storage
Full SD card slot
5MP rear camera (720p capture and playback)
2MP front camera
Full size USB 2.0
Mini USB
Full size HDMI port
6 different colored back plates
See, it's another Tegra 2 beast, but that thickness and weight scares me.
http://www.youtube.com/watch?v=6TTB01sa9Gk
Cheers to everyone who sent this in!