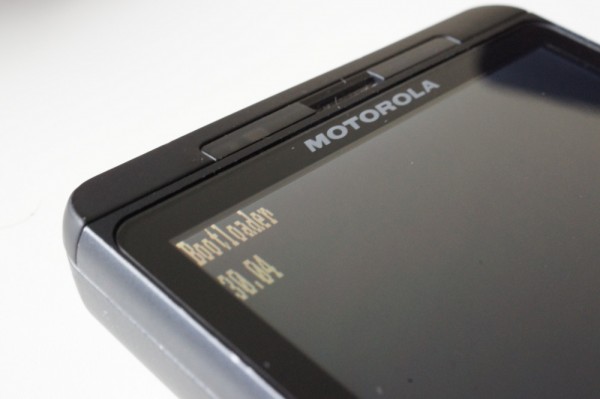 Almost two months after Motorola first announced their semi-confusing stance on locked/unlocked bootloaders, they found some time to clarify things by speaking with the bootloader petition crew again.  In their previous statements, Moto said that their intent was to enable relockable bootloaders on all devices starting in late 2011 "where carriers and operators will allow it."  The new stance isn't all that different, and almost looks like a public finger pointing at carriers for getting them into this situation that has garnered so much negative press (at least in the developer community).
According to Irwin Proud (the petition guy) who had an hour long conversation with Christy Wyatt (VP of Mobile Software), Motorola has plans to change the bootloaders of devices that are "scheduled to receive updates in the second half of this year."  This sort of verbiage almost points towards Moto looking not only at unreleased phones, but also at devices like the DROIDX2 or maybe even the original DX who currently have locked bootloaders.  (If this sounds unlikely, you aren't alone.)  Their goal is to build all future versions of "flavoured Android" (whatever that means) with "the same unlocked source code" (again, whatever that means).
Later in their interview, Christy apparently talked about a pretty significant and potential drawback  of this new approach which had to do with problems that would arise because of the stringent testing that carriers put devices through.  Again, seems to us like they want to deflect most of the situation to the carriers, but did mention the fact that the XOOM's unlockable bootloader was well received by them and that they are doing as much encouraging as they can to get these changes to go through.
Irwin also wanted to assure everyone that Moto sounded genuine during his conversation with them, and that he is confident that they will live up to this "arrangement."  As much as I hate being the negative Nelly and usually try to stay positive with these things, I can't help but think this will continue to be one of those "I'll believe it when I see it" sorts of things.  And I say that because of Moto's consistent stance of "where carriers will allow it" which we know is not a good sign for us.  Manufacturers can parade around all day talking about this or that policy, but we all know who has ultimate control.
Via:  AusDroid