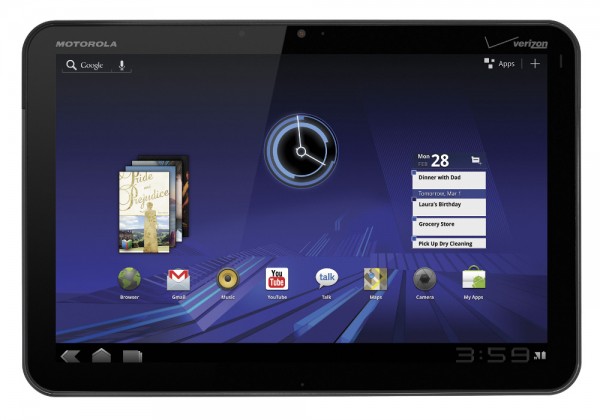 Could this be the start of something great? The first deodexed XOOM ROM by Team Tiamat has arrived. The team states almost all XOOMs can flash the ROM (yes you must be rooted) and in most cases you won't even have to wipe your data. With the arrival of the first flashable ROM, can we expect more to come and maybe even some themes? List of features and instructions after the jump.
ROM features include:
Packed with Tiamat 1.4.4 stock GPU. Flash OC'd gpu version is you wish.
Rooted with SU and superuser, of course
Desktop UA string, CRT Screen Off Animation, Call setting with SIP, and SMS capable enabled.
Supercircle 100 point battery mod
Wifi Ad-Hoc mod enabled
USB Mass Storage Enabled. Use Dinomight's Mass Storage Tool or activity manager script. I've got some truly epic things lined up for this now that I can unleash the brd|smaliBeast !
Init.d boot scripts enabled.
Busybox built in
local.init.rc enabled in system/etc
openVPN binary and script from CyanogenMod. untested but with tun.ko included, should win. Also grabbed Wireless Toolkit binary with built in symlinks from CyanogenMod
Added Quickboot, Estrongs File Explorer, and Flash Player hulufied brdizzled in data/apps. This was included so users coming from full wipe can be up and running. Feel free to remove from zip before flashing.
Instructions on flashing:
Back up your device's apps and data and nandroid to be safe.
Put ROM (download) on root of MicroSD
Flash ROM
Reboot
Determine if wipe is necessary

If your device bootloops, which is not likely, you will need to wipe. Once booted, attempt to install an app either from the Market or a side loaded apk. If the install fails and borks out, a wipe is necessary. If it is determined you have to wipe, do a Factory Reset in Android Settings menu. At this time do not use Clockwork Recovery to wipe. Once wiped, flash ROM again and reboot.
If you're planning on attempting this, please do your research and BACK-UP any and all data! For any questions and to learn more about the ROM, please visit the XDA forum thread.
Cheers Luis!